Can Child Support Suspend Passports?
By Mary Jane Freeman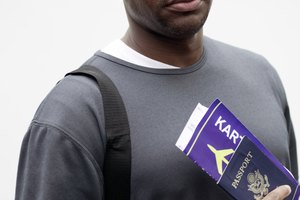 Creatas/Creatas/Getty Images
Following a divorce or failed relationship that produced a child, support is often ordered by the court. The noncustodial parent is required to contribute to the financial support for the child by making payments to the parent with custody. The United States Child Support Enforcement Program is a partnership between the federal, state, local and tribal governments that was created to make it easier for the difference government bodies to enforce child support payments. CSE uses several methods to force delinquent parents to make payments, including revoking your passport.
Support Enforcement
Once a child support award is established, often by divorce decree or other court action, the custodial parent may apply to the Child Support Enforcement Program and receive help with its collection. Operated at the state level, CSE monitors and enforces child support orders. When a noncustodial parent's payments become past due, CSE employs several routine collection methods, including the seizure of state and federal income tax refunds, seizure of bank accounts and suspension of drivers, professional and occupational licenses. However, if the arrearage becomes greater than $2,500, CSE will pursue harsher penalties such as revocation of the delinquent parent's passport.
Suspension of Passport
Once a noncustodial parent owes more than $2,500 in past due child support, the state CSE refers his case to the federal Office of Child Support Enforcement (OCSE). OCSE then submits the case to the U.S. Department of State where he is enrolled in the Passport Denial Program. When you're enrolled in this program, the State Department will restrict or revoke your current passport and instruct Passport Services to deny any new or renewal applications you may submit. Both CSE and Passport Services will notify you once your case has been referred to the Passport Denial Program.
How to Reinstate Passport
Once your passport privileges have been taken away for non-payment of child support, the only thing left to do is pay up. You must either pay the past due balance in full or enter into an approved payment arrangement. Paying just enough to bring your balance below $2,500 will not suffice. When your obligation is satisfied, CSE will notify the Passport Denial Program and have your name removed from their child support arrearage list. You will then be permitted to travel on your current passport or apply for a new one. If you submitted a new or renewal application within 90 days of being enrolled in the Passport Denial Program, Passport Services will resume processing your application. However, if your privileges are restored after the 90-day window, you will need to submit a new application.
Additional Considerations
Although CSE is responsible for notifying the Passport Denial Program when your child support arrears have been cleared, this does not always happen. Therefore, you must contact them directly if you discover your passport remains restricted or subsequent new or renewal applications are denied. Passport Services is unable to make these changes for you.
References
Resources
Writer Bio
Based on the West Coast, Mary Jane Freeman has been writing professionally since 1994, specializing in the topics of business and law. Freeman's work has appeared in a variety of publications, including LegalZoom, Essence, Reuters and Chicago Sun-Times. Freeman holds a Master of Science in public policy and management and Juris Doctor. Freeman is self-employed and works as a policy analyst and legal consultant.