Who Pays When Filing for Divorce in Texas?
By Elizabeth Stock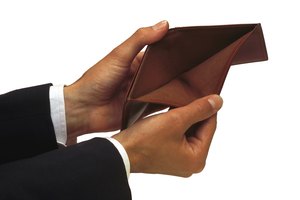 Comstock/Comstock/Getty Images
Divorce is the legal recognition that your marriage is over. In Texas, the person who files for divorce is typically the one responsible for paying the filing fee to start the divorce case. The amount that you must pay to file for divorce in Texas depends on the county in which you file, whether you and your spouse have children, and your financial situation.
Where to File
If you wish to file for divorce in Texas, you must determine the appropriate county in which to file your divorce case. To file for divorce in the state of Texas, you or your spouse must have lived in Texas for at least six months. File in the county where either you or your spouse have lived for at least 90 days. If you and your spouse live in different counties but you both fulfill the 90 day requirement, you can file for divorce in whichever county is more convenient for you.
Filing Fees
The divorce filing fee must be presented to the District Court Clerk at the time you file for divorce, or County Court Clerk if the county court handles divorce cases in your area. Each county in Texas sets its own filing fees. There are two different divorce packets in Texas: one for a married couple with children and one for married couples without children, and these might require different fees. For example, in Bexar County, the filing fee for divorce without children as of 2012 is $253, and if you do have children, the fee is $304. By contrast, the filing fees for divorce in Dallas County are $260 if you do not have children and $311 if you do.
Affidavit of Inability to Pay
If you are having a hard time paying the divorce filing fees in your county, you may qualify for an exemption by completing an Affidavit of Inability to Pay. The Affidavit of Inability to Pay is a court form that you complete that lists your sources of income, your dependents, your property and your monthly bills. To qualify, you must be able to show the court that you do not have any extra income to afford the filing fee. If you have little income each month but own expensive assets, such as a sports car, the court may not be swayed that your filing fees constitute a real hardship. The affidavit must be notarized before you submit the form to the judge. File the form with the District Court Clerk in your county and the form will be presented to a judge for approval. If your affidavit is approved, you do not have to pay any court fees associated with your divorce case.
Legal Aid in Texas
You can file for divorce without the assistance of an attorney in Texas. However, if you cannot afford legal representation and require legal assistance, you have some options. For example, you may contact the Legal Aid office in your county or visit the court's self-help center.
References
Writer Bio
Elizabeth Stock began writing professionally in 2010. Before pursuing a career as a freelance writer, Stock was an editor and note writer for the "Thomas Jefferson Law Review" while attending Thomas Jefferson School of Law in San Diego. Stock recently graduated magna cum laude from Thomas Jefferson earning a Juris Doctor.