Ohio Laws on Relocation & Child Custody After Divorce
By Mark Vansetti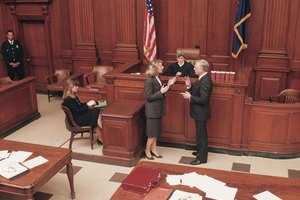 Comstock/Comstock/Getty Images
Under Ohio law, a custodial parent wishing to relocate to a difference state must receive consent from the other parent or the court. As a result of this requirement, you cannot just pick up and relocate to another state with your child. There are requirements, as required by Ohio law, that you must meet before the move may occur or the court may intervene and order you and your child back to Ohio.
Notice of Intent to Relocate
A parent who wishes to relocate must file a notice of intent to relocate with the court. The notice must be filed in the same court where the divorce was granted. The notice must include the address you are relocating to, unless there is a court order prohibiting the disclosure of this information. Once the notice is filed, the court will send the notice to the other parent involved. Once the other parent receives the notice, he may file a motion with the court objecting to the move.
Relocation Hearing
If the stationary parent files an objection after receiving notice of the relocation, the court will schedule a hearing. The court, in its discretion, may also order a hearing on its own. During the hearing, you have the burden of proving to the court why the move is in the best interests of the child.
Factors at Hearing
The court will consider various factors when deciding whether to allow you to relocate, even through the other parent has objected. Basically, the court will determine what is in the best interests of the child. Factors the court will take into consideration include the reason for the move, distance of the move, extended family's involvement in the child's life, non-moving parent's relationship with the child, and ability of both parents to communicate with each other.
The Parenting Plan
If the court allows the relocation to take place, the court will revise the parenting plan. In revising the plan, the court will create an appropriate parenting time schedule to take effect once the move happens; the original parenting plan is no longer appropriate as a result of the relocation. If the court does not allow the relocation to take place and you still relocate, the court may place custody of the child with the non-custodial parent or hold you in contempt.
References
Writer Bio
Mark Vansetti is a licensed attorney and, along with his Juris Doctor, holds bachelor's degrees in both human biology and economics. Throughout his professional career, he has written on a variety of topics for the American Bar Association Health Law Section, FindLaw and other websites. Vansetti also served as the senior editor of his law school's law review.