How to File an Answer to a Summons for Visitation
By Anna Green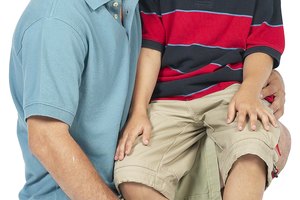 Hemera Technologies/PhotoObjects.net/Getty Images
Although a summons can be a general notice to appear in court, within the context of a visitation proceeding, a summons often acts as a formal notice of proceedings that a party to a case will receive when he or she is served a visitation complaint or petition. The type of document the party receives will depend on whether the court has already established visitation, and visitation is being denied, or the other party wants to establish visitation. When you receive a summons for your visitation case, it will specify exactly how long you have to file a response. In many jurisdictions, it will be 20 days.
Legal Issues
Each state makes its own rules and procedures regarding visitation, so the exact procedure and content of a response to a visitation summons will vary between jurisdictions. In other words, the type of form you must use and what you will need to include in that response will depend on what court is hearing the case as well as the nature of your visitation case. Responding to a summons appropriately and according to court procedure is essential to maintaining your rights, so it is crucial to read the summons carefully and make sure you understand what documents you need to file, where you need to file them and when you must submit them.
Answer
If you are able to reach a mutually agreeable visitation arrangement with the party who filed the initial complaint, it may expedite the legal process if you prepare a joint visitation agreement and file it with the court together. If you disagree with the complaint or petition, however, your answer should explain the specific reasons why you disagree with said visitation arrangement. After you have prepared your answer to the visitation complaint, generally, you will need to sign the document in front of a notary public.
Filing Procedures
When you receive a summons and complaint or petition, it may include a blank response form for you to fill out. If you do not receive such a form, you may need to contact the clerk of the court or visit the court's website to request a blank response form or sample answer to summons for visitation. When filing an answer to a summons, you will typically need to file the original document with the court, along with several photocopies of the document. The clerk can explain how many copies you need to file. In most instances, you can either hand-deliver your written answer to the court and pay any filing fees in person or send it by mail along with the filing fees. You will also need to serve your answer on the party who issued the summons. Acceptable methods of service vary by jurisdiction, but typically, you can use a private process server or sheriff. Once you have served the party issuing the summons, you will typically need to file written proof of service with the court.
Assistance
If you are unclear about how to respond to the summons or have questions about filing your answer, it is generally advisable to contact the clerk of the court, as the clerk's office typically processes these documents. In addition to helping you understand summons procedures, the clerk can also tell you whether you will need to pay any filing fees. The court clerk cannot offer legal advice, however.
Noncompliance
If you fail to file an answer to the visitation compliant in the time frame listed on the summons, the court may enter a default judgment in favor of the party who submitted the request. In other words, the proposed visitation arrangement may be granted without giving you an opportunity to assent or voice your objections. This may ultimately compromise your rights. If your summons and accompanying complaint state you must appear in court, it is essential you attend the hearing. If you do not attend, the court may enter a default judgment.
References
Writer Bio
Anna Green has been published in the "Journal of Counselor Education and Supervision" and has been featured regularly in "Counseling News and Notes," Keys Weekly newspapers, "Travel Host Magazine" and "Travel South." After earning degrees in political science and English, she attended law school, then earned her master's of science in mental health counseling. She is the founder of a nonprofit mental health group and personal coaching service.