Waiting Period for a Divorce in Minnesota
By Alisa Stevens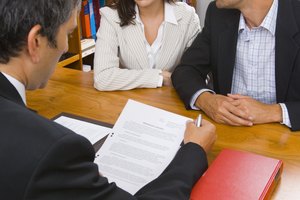 Pixland/Pixland/Getty Images
State law governs divorce proceedings, including any waiting periods. Some states impose mandatory waiting periods related to residency requirements and petition filings. In Minnesota, while the law requires a residency period before filing, the state does not require a waiting period once the petitioner files. As a pure no-fault state, Minnesota does not require evidence of wrongdoing. A spouse must file on grounds the marriage is "irretrievably broken."
Residency Requirement
Minnesota law does not require a waiting or mandatory separation period before filing for divorce. However, like most states, Minnesota requires residency in order to file a divorce petition. To file for divorce in Minnesota, at least one spouse must be a resident for 180 days. If neither spouse can claim residency, the petitioner -- that is, the spouse filing for divorce -- must wait to file for divorce until this residency requirement is met.
Divorce Filing
After satisfying residency, the petitioner can fill out the appropriate forms and file for divorce. The petitioner then files the divorce materials with the court, pays the fee and arranges for document service to her spouse. The spouse has 30 days from date of receipt to respond to the summons and petition and file an answer with the court. Minnesota courts usually don't grant divorces until the answer period is complete.
Length of Time
In an uncontested divorce, where the parties agree to the divorce terms or a spouse does not respond to the divorce petition, the process generally takes a few months. In contested divorces, where the parties cannot agree to terms, a trial is scheduled and the divorce can take six months to two years. The wait time for a court date depends on the filing county. It takes longer to get a court date in Minnesota counties with larger populations.
Trial
If a trial is necessary, the judge will hear from the parties, witnesses, professionals and, in some cases, the children. If custody and visitation are at issue, the court may appoint a guardian ad litem to investigate and make a recommendation. If parties cannot agree on financial issues, bank officials, appraisers, pension plan evaluators and other financial experts may testify. After trial, the judge will review the evidence and testimony and issue a decision within 90 days.
Divorce Decree
Once the judge signs the divorce decree and any related orders, the court clerk files the documents to officially end the marriage. This is the same for contested and uncontested divorces. Once the clerk files, the parties are divorced. There is no waiting period before the divorce action takes effect.
References
Writer Bio
Alisa Stevens has been writing articles and business/marketing materials since 1994. She has experience writing for and about a variety of industries, including the legal, transportation, government and education sectors. Stevens holds a B.A. in journalism and an M.B.A. from Arizona State University, as well as a J.D. from Loyola Law School.