How to Get Divorce Records From Conroe Texas Online
By Lisa S. Kramer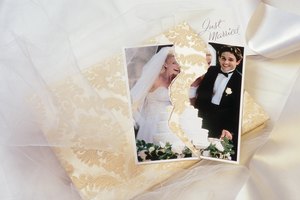 Comstock/Comstock/Getty Images
The city of Conroe, Texas is located in Montgomery County. There are two types of divorce records for divorce proceedings that occur in Montgomery County: a divorce decree and a divorce certificate. A divorce decree is a legal instrument prepared by the Montgomery County District Court which finalizes and sets forth the terms and conditions of the divorce, including division of marital property, child custody, child support and alimony. A Montgomery County divorce decree cannot be obtained online. A divorce certificate, also called a divorce verification letter, is a document issued by the Texas State Department of Health which states whether or not a divorce has been recorded with the State of Texas since 1968 and if so, provides the names of the husband and wife, date and place the divorce was finalized. A Montgomery County divorce certificate can be obtained online.
Access Vital Records Application on the Texas.gov web site. Review the application's instructions and click on the "Continue" button.
Select "Divorce Verification Letter" from the drop-down menu and click "Continue."
Follow the application's prompts to complete your request. The following information is required to complete your application: date or date range of the divorce and either the husband's or wife's full name as written on the divorce decree. The following information is optional but helpful to complete your application: both spouses' names as written on the divorce decree, city or county where divorce was finalized, spouses' dates of birth and ages when divorce was finalized.
Select how many copies of the divorce verification letter you want and proceed to checkout. There will be a fee for each copy you request. Enter your shipping information and credit or debit card information on the application.
Wait to receive your divorce verification letter in the mail, which will take about a month.
Tips
You cannot obtain a copy of your Montgomery County divorce decree online. Instead, you can obtain a certified copy of your divorce decree by visiting the Montgomery County District Clerk at 501 North Thompson, Suite 401, Conroe, Texas 77301. You will need to provide proper identification, such as a valid driver's license or passport. There will be a small fee associated with this service.
References
Writer Bio
Lisa S. Kramer is a licensed attorney practicing civil litigation and estates and trusts law in southern Florida. She received her Bachelor of Arts in English from the University of Florida, where she graduated Phi Beta Kappa and cum laude. Kramer earned her Juris Doctor from the University of Florida Levin College of Law.