How to Represent Myself for Sole Custody in Florida
By Jennifer Williams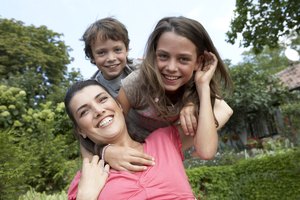 Soul/Lifesize/Getty Images
Florida family courts are accessible to parents who want to represent themselves for sole custody. All the forms, with instructions, are provided on the Florida Supreme Court website. In certain situations, such as child abuse or substance abuse by the other parent, the court may decide that giving sole parental responsibility to the non-abusing parent may be in the child's best interest.
Sole Parental Responsibility
Sole parental responsibility, formerly called sole custody, means that only one parent has the legal right to make decisions regarding a minor child. In Florida, parents don't have to be divorcing to file a petition for sole parental responsibility. Florida courts entertain such petitions even while the parents are still legally married.
Asking for Sole Parental Responsibility
You must tell the court you want sole parental responsibility for your minor children. You would include this statement to the court as its own paragraph in the initial Petition for Dissolution of Marriage with Minor Children. Select the sole parental responsibility option on the court's form, or state you want sole parental responsibility and this arrangement is in the best interest of the children.
Parenting Plan
The Petition for Dissolution must be accompanied by a Parenting Plan, which details how you want to handle parental responsibility and any time sharing, formerly called visitation, with your spouse. Florida provides three options/forms for a parent to choose from: the basic parenting plan, a supervised/safety focused parenting plan and a relocation/long-distance parenting plan. Whichever document is right for your situation, mark the sole parental responsibility option to indicate to the court you want to be the only parent making decisions for your children.
Other Documents
Other documents must accompany your initial petition and the parenting plan. Florida courts also require the following: Cover Sheet for Family Law Cases, Notice of Related Cases, Family Law Financial Affidavit, Uniform Child Custody Jurisdiction and Enforcement Act Affidavit and Notice of Social Security Number. Sign the parenting plan and these completed documents before a notary public or deputy court clerk. Most courthouses have notary services available for a small fee if the deputy clerks are unable to witness your signature on these forms.
Court Process
File the forms with the family law court clerk. Either pay the filing fee or file an Application and Affidavit of Indigency, which documents your income and says you cannot afford the fee. If the court clerk approves the application, the filing fee is waived. Serve copies of the documents on your spouse. Most court clerk offices maintain lists of local process servers.
Argument and Evidence
Once your spouse answers your petition, contact the court for a hearing date. At the hearing, explain why sole parental responsibility is in the best interest of your children and why joint responsibility would be harmful to them. Discuss any evidence of abuse, neglect or substance abuse. The court may make a decision then or set the matter for trial. At trial, present your evidence, such as documents and witnesses, to show that sole parental responsibility is in your children's best interest. As the party asking for sole parental responsibility, the burden is on you to prove your case.
The Court's Decision
The court will weigh the evidence and decide whether to grant your petition for sole parental responsibility. If your petition is granted, the court will establish a time sharing plan that protects the children from any further harm. This may include supervised time sharing at a professional facility where interaction between your spouse and children is monitored, or the court may decline to provide any time sharing at all.
References
Writer Bio
An attorney for more than 18 years, Jennifer Williams has served the Florida Judiciary as supervising attorney for research and drafting, and as appointed special master. Williams has a Bachelor of Arts in communications from Jacksonville University, law degree from NSU's Shepard-Broad Law Center and certificates in environmental law and Native American rights from Tulsa University Law.