What if Your Spouse Refuses to Be Served Divorce Papers in NY State?
By Kay Lee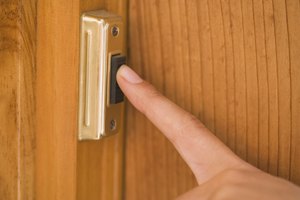 Thinkstock Images/Comstock/Getty Images
If you are seeking a divorce in the state of New York and your spouse refuses to receive the papers, you may still obtain a divorce. Despite a refusal to accept papers, there are methods by which divorce papers can be served that eliminate the need for acceptance. As such, service will be effected and the divorce can proceed.
Personal Service of Process
New York law provides for special service rules in divorce actions. Service must be made on a natural person and accomplished by delivering the papers to the person that should be served, or an adult at their home or business, and mailing the papers via first class mail to the individual's home or business address. When mailing divorce papers, the envelope should be marked "personal and confidential" without any indication on the envelope that it is a communication from an attorney or related to a legal action. Once the mailing is complete, proof of service must be filed with the court within 20 days of the delivery or mailing. The proof of service includes information about the service, such as the name of the person who received the papers as well as the date, time and place where the service occurred.
Spousal Refusal of Papers
Although New York law is intended to discourage service in divorce cases by methods other than personal service, the court can permit service by publication. In order to receive the authorization for service by publication, the spouse seeking the divorce must petition the judge overseeing the divorce case and provide proof that a diligent effort was made to personally serve her spouse. The proof is provided in an affidavit attesting to the attempted service.
Service by Publication
Service by publication requires that divorce papers be affixed to the door of the spouse's business or home address provided that it is also mailed by first class mail to the person being served in an envelope marked "personal and confidential" without demarcation that the package is from a lawyer or that it relates to a legal action. Proof of this service must be filed with the court within 20 days of affixing the package or mailing it. Service is considered complete 10 days after the filing.
Professional Service of Process
Although it increases the cost of your divorce, you may wish to utilize the services of a third-party process server. Professional process servers ensure that process is made in accordance with state law. Additionally, the process server provides proof that service occurred.
References
Writer Bio
Kay Lee began freelance writing for Answerbag and eHow in 2010. She is an attorney in Washington, DC, practicing since 2006. Lee specializes in employee benefits and executive compensation. She holds a Juris Doctor from the Columbus School of Law and a Master of Laws from Georgetown University Law Center.