How to File for Divorce Online With a State Fee Waiver in California
By Lisa S. Kramer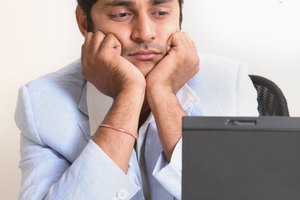 Visage/Stockbyte/Getty Images
Divorce can be stressful and expensive. Fortunately, you may be eligible for a fee waiver for filing fees and other costs related to filing for divorce in California. You may qualify for a fee waiver in three ways: if you are receiving public benefits such as Medi-Cal, Food Stamps (CalFresh), Cal-Works, General Assistance, SSI, SSP, Tribal TANF, IHHS or CAPI; if your household income before taxes is less than the amount listed on Form FW-011 in Item 5b; or if the court determines that you do not have adequate income to pay for your basic household needs and court costs.
Obtain the Information Sheet on Waiver of Superior Court Fees and Costs (Form FW-001-INFO) and Request to Waive Court Fees (Form FW-001) from your county clerk's office or download the forms from the Web. To download the forms,navigate to the California Courts website (see Resources) and click on the "Forms" link at the top of the page. Select "Browse All Forms" from the drop-down menu and then search for the forms by name or number.
Sign the Request to Waive Court Fees (Form FW-001) under penalty of perjury. You must tell the truth on this form. All answers must be accurate and complete.
Obtain the following forms from the California Courts website: Petition – Marriage (Family Law) (Form FL-100) and Summons (Family Law) (Form FL-110). If you have minor children with your spouse, you will also need to obtain the Declaration Under Uniform Child Custody Jurisdiction and Enforcement Act (UCCJEA) (Form FL-105/GC-120).
Fill out and sign the Petition, Summons and UCCJEA forms under penalty of perjury.
Consider having a licensed attorney review your forms. While you can file your own divorce papers, it is prudent to hire an attorney to review your forms and obtain legal advice as needed for your case. Some courts in California have a family law facilitator or self-help center to assist with divorces. If your county court offers such services, you can request that someone review your divorce paperwork before you file.
Make at least three copies of all completed divorce and fee waiver forms. Save a copy for yourself and give a copy to your spouse. The original copy, which must be signed in ink, is for the court.
File your divorce paperwork and fee waiver application together. You can mail the documents to your county court or file them in person. Although the forms can be obtained online, you cannot e-file these forms.
Tips
If the court denies your fee waiver without a hearing, you have 10 days from the date in the Clerk's Certificate of Service to pay your fees.
File a new request for a fee waiver if the court found that your original request was incomplete. Alternately, you may request a hearing if you have additional information you'd like the court to consider.
References
Resources
Writer Bio
Lisa S. Kramer is a licensed attorney practicing civil litigation and estates and trusts law in southern Florida. She received her Bachelor of Arts in English from the University of Florida, where she graduated Phi Beta Kappa and cum laude. Kramer earned her Juris Doctor from the University of Florida Levin College of Law.