How to Get a Free Copy of Divorce Records
By Shannon Johnson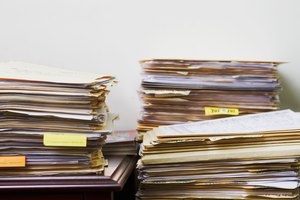 Erik Snyder/Lifesize/Getty Images
Whenever parties are involved in a divorce action, the clerk of court will create a permanent record of every document filed by the attorneys or parties that represented themselves. Thanks to the new wave in court technology, most record searches can be conducted online. However, in some instances a request will have to be conducted in person or via mail.
Getting Prepared
Gather all identifying court information. For example, the parties' names, the case number, the date the case was filed and the court that heard the case. At a minimum you will need the parties' names and the case number in order to find divorce records online or to submit a request via mail.
Contact the clerk of court and determine if they accept pauper or indigent affidavits. This affidavit will allow you to waive any fees related to getting your divorce records. Find out if you can return the form via mail or if you have to complete it in person.
Determine if you will qualify for indigent status. Normally the indigent guidelines for civil cases is for people whose income is at or 200 percent below the National Poverty Guidelines. If you don't qualify for indigent status proceed to the next step.
Ask the clerk of court if there is online access to divorce court records or if requests are required to be mailed. This is also a good time to find out if there are any associated copying or access fees.
Getting Records
If the court does not provide online access, mail in a written request to the clerk of court. Your request should include: a letter stating the divorce action case number, the parties' names and a request for all records relating to the case number. Make sure to provide the clerk with a return stamped envelope with your name and address on it.
For courts that provide online access, go directly to the clerk of court's website to access the divorce records. You will need to input the parties' names and/or case numbers in order to view and print the records.
You can also access free divorce records on sites such as Divorce Records.org and Legal Dockets Online and Public Records Center. All of these sites allow access to divorce records in all 50 states, which is more feasible for those conducting multiple searches, or searches in a state different than the one they reside in.
Tips
Although for the most part divorce records are public information. You might run across divorce records that have been sealed by court order. In addition, the court can seal certain sections of divorce records. For example portions of divorce records that reveal doctor/patient privileges, or deal with battered women will be sealed from public view. There are a growing number of jurisdictions, such as California and Florida, that require individuals to petition the court and follow a process that requires exhibiting a compelling interest in secrecy before the a request to seal the divorce records is granted.
Warnings
Access to divorce documents that involve any allegations of sexual abuse of a minor or other sensitive information are usually only viewable by requesting a copy via mail. In addition, usually only the named parties, their counsel,or someone that has obtained a court order will be able to receive a copy of these records.
References
Resources
Writer Bio
Shannon Johnson graduated from Mercer University School of Law in 2000. She practiced law for five years before beginning her writing career. She currently writes for several legal and non-legal online publications. Johnson has also taught legal research and writing, music business law and entertainment law.