Difference Between a Final Divorce Decree & a Settlement Agreement
By Marie Murdock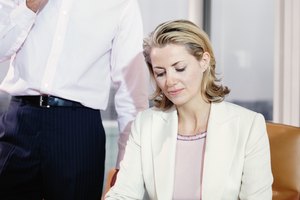 Digital Vision/Digital Vision/Getty Images
When getting a divorce, spouses deal with the emotions involved with feelings that may range from sadness, anger and disillusionment to resignation and acceptance. They deal with the day-to-day needs of any children involved as well as the physical movement of property from one location to another. The court will require the spouses to convert those feelings, emotions and decisions to black and white in the form of a settlement agreement or the court will decide the terms of their divorce by decree after hearing the issues.
Uncontested Divorce
A settlement agreement is a written agreement reflecting the desires of both parties relating to property division, child custody, visitation and any other matters involved in the divorce action. An uncontested divorce will generally contain a settlement agreement signed by the husband and wife reflecting that they agree to its terms. The court will review the agreement and upon approving it, will enter a final decree of divorce based upon its terms. Although more complex agreements may require the document preparation services of an attorney or mediator, online document preparation websites can also assist by supplying settlement agreement forms.
Contested Divorce
A contested divorce, however, takes place when a husband and wife can't or won't agree to a division of their property, custody of children, visitation arrangements or any other matter at hand. Many states have passed mandatory mediation laws where spouses are strongly encouraged to reach an agreement before taking their divorce issues before the court. However, when there is no settlement agreement as may be the case in a toxic or abusive situation, a final decree signed by the judge will determine the disposition of the assets and issues surrounding children of the parties. Before a decree is entered by the court, however, one or more hearings will generally be conducted giving each side an opportunity to present evidence for the court's consideration. The final decree, when rendered, generally resolves all outstanding issues of the parties and grants them a divorce effective as of the date of its signing.
Agreement/Decree Relationship
A settlement agreement is incorporated into a divorce decree usually by reference to it in the decree. The decree will generally state that the agreement is attached as an exhibit or it will merely reference that the parties have reached an agreement that has been filed with and approved by the court. A settlement agreement, however, does not divorce the parties. The decree does.
Appeals and Amendments
After a settlement agreement is reached and a divorce finalized, circumstances may change that prompt the parties to amend their written agreement. They may sign an amendment to their former agreement and file a motion to modify the decree asking the court to approve the changes. On the other hand, if one or both parties disagree with a court's ruling absent an agreement, they may ask the court to reconsider or appeal to a higher court during the statutory time for filing an appeal. Not filing an appeal during this time, however, doesn't generally bar either party from filing an action in the future to amend or modify the divorce decree due to a material change of circumstances, such as an increase or decrease in income. Further, a contested divorce may be amended by a court-approved settlement agreement even though the court may have decided the issues by final decree initially.
References
Resources
Writer Bio
Marie Murdock has been employed in the legal and title insurance industries for over 25 years. Murdock was first published in print in 1979 and has been writing online articles since mid-2010. Her articles have appeared on LegalZoom and various other websites.