Laws Concerning Back Child Support in Indiana
By Cindy Chung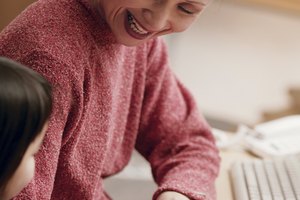 Comstock/Comstock/Getty Images
When unmarried, separated or divorced couples have children together, financial issues often become a source of stress or confusion. If the parent paying child support in Indiana — generally, the non-custodial parent — fails to pay or falls behind on payments, the custodial parent may need to pursue enforcement. Although parents can choose to make an informal financial arrangement, a court order increases the number of legal options available.
Enforcement of Child Support Order
In general, a parent must have a court order for child support before a court or state agency can pursue enforcement of unpaid support. A child support order ensures that the required amount of support meets the guidelines set by Indiana law, based on parental incomes and the children's needs. The child support order is a legal record of the non-custodial parent's obligation. In the event of unpaid support, the payment amount specified by the court will help to calculate arrearages — the amount owed by the non-custodial parent.
Role of Indiana Child Support Bureau
The Indiana Department of Child Services handles child support issues through the Child Support Bureau. The bureau works with local prosecuting attorney's offices across Indiana to establish and enforce child support. If a custodial parent receives public assistance benefits through Temporary Assistance for Needy Families or Medicaid, that parent must cooperate with the bureau on child support matters. If the custodial parent does not receive relevant public benefits, that parent may still request services through the Child Support Bureau after payment of a small fee.
The bureau handles income withholding by having employers deduct child support from parents' paychecks. If the parent owes unpaid child support, the amount of withholding may increase if a court finds that the parent has accrued arrearages. The amount of increased withholding per week depends on the total amount owed by the parent.
Legal Consequences of Arrearages
Past-due child support can result in legal consequences for the parent who fails to pay. Besides implementing an increase in wage withholding, the Child Support Bureau, or a local prosecuting attorney's child support division, may pursue the collection of child support payments from the non-custodial parent's federal or state tax refund. State law also allows for a lien on a non-custodial parent's property, suspension of the parent's driving license or professional licenses, and reporting to credit agencies. In addition, the state may pursue contempt of court measures or criminal charges for family nonsupport.
Federal Law and Interstate Enforcement
A non-custodial parent cannot avoid an Indiana child support order by simply moving to another state. The Uniform Interstate Family Support Act, a federal statute, sets nationwide standards for state child support laws and explains how states can enforce child support obligations across state lines. Indiana has adapted UIFSA standards into its state laws. If an Indiana court finds a sufficient tie between the non-custodial parent and the state of Indiana, the custodial parent or Child Support Bureau can ask the court to keep child support proceedings in the Indiana courts. Indiana courts can also ask for assistance from other state courts or enforcement agencies.
References
Writer Bio
Cindy Chung is a California-based professional writer. She writes for various websites on legal topics and other areas of interest. She holds a B.A. in education and a Juris Doctor.