State of Nebraska Legal Rights for Spousal Abandonment
By Jim Thomas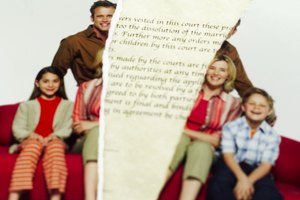 Stockbyte/Stockbyte/Getty Images
Being abandoned by a spouse is a horrible emotional blow, and often a financial blow as well, especially if you have children. If you are a spouse who has been abandoned in the state of Nebraska, you have the right to end your marriage without having to prove abandonment in court. You also have the right to legally separate. You have the right to seek alimony and child support as well. Nebraska is a no-fault divorce state. Generally speaking, a no-fault divorce in Nebraska only requires the parties to state the marriage is "irretrievably broken" and reconciliation efforts have failed before a divorce is granted.
Abandonment Statute
Nebraska makes abandonment of a child a Class I misdemeanor punishable by a fine of $1,000, a jail sentence up to one year or both. Abandonment of a spouse is defined as a "person who abandons and neglects or refuses to maintain or provide for his or her spouse or his or her child or dependent stepchild, whether such child is born in or out of wedlock." A child is defined as an individual under the age of 16. The neglect or abandonment must be for a period of at least three consecutive months.
Divorce
If you are abandoned, one of your legal rights is to file for divorce. Since Nebraska is a no-fault divorce state, you simply have to file a petition stating your marriage is "irretrievably broken." There is a 60-day waiting period to encourage reconciliation before the divorce is granted. If your spouse doesn't object to the divorce, it will be granted and, if he can't be located, you just have to serve legal notice at his last known place of residence.
Legal Separation
Sometimes an abandoned spouse wants the legal benefits offered by a divorce without a formal dissolution of the marriage. Often, it is out of religious conviction or to retain medical coverage under a family insurance policy. Nebraska law allows legal separations and these are designed to resolve the same issues as a divorce, including support for the abandoned spouse and children and a separation of marital assets.
Financial Issues
Financial support for you and your children will be resolved by the court in a legal separation or divorce proceeding. You can come to an agreement with the spouse who has abandoned you, or the court will resolve these issues. Financial support depends on a number of factors, such as the duration of the marriage, history of contributions to the marriage by you and your spouse, and ability of the abandoned spouse to work without harming the interests of any minor children.
Criminal Complaint
Since abandonment of a spouse or child is a crime in Nebraska, an abandoned spouse is free to file a criminal complaint with the local or state police department. In situations where the other spouse can't be easily located, involvement by the police improves the chances of tracking him or her down, which can be particularly important if you are seeking alimony or child support.
References
Writer Bio
Jim Thomas has been a freelance writer since 1978. He wrote a book about professional golfers and has written magazine articles about sports, politics, legal issues, travel and business for national and Northwest publications. He received a Juris Doctor from Duke Law School and a Bachelor of Science in political science from Whitman College.