The Divorce Process for an Army Soldier in Texas
By Marcy Brinkley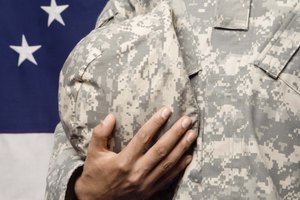 Jupiterimages/Creatas/Getty Images
Military and non-military residents generally follow the same process when going through a divorce in Texas. An Army soldier or other military member and his spouse must consider special issues such as deployment, military benefits for the spouse and dividing military retirement payments.
Filing
The divorce process begins by filing a petition in the county of residence. To be eligible to file in Texas, you or your spouse must have lived in the state for at least six months and in the county for at least 90 days. Being stationed in Texas counts for purposes of residency, so a soldier stationed at Fort Hood, for example, may file for divorce in Bell County, Texas, even if his home of record is in another state. On the other hand, a soldier stationed in Germany may file for divorce in Bell County if that is his home of record.
Waiting Period
After filing for divorce, you must provide a copy of the petition to your spouse and ask her to sign a Waiver of Citation. It takes at least 60 days to finalize the divorce, but it may take longer. During the waiting period, try to reach an agreement with your spouse on child-related issues and property division. You may negotiate between the two of you or arrange for mediation with a neutral third party.
Parenting Plan
Divorcing parents in Texas must agree on a written parenting plan or allow a judge to enter an order regarding conservatorship and possession, the terms used for custody and visitation. An Army soldier and his spouse must consider what will happen if the active duty member is deployed or sent to another location for temporary duty. For example, the Texas Family Code allows a deployed military member to ask the court to allow extra visitation after he returns so the parties might agree to include an automatic provision to that effect in their parenting plan. They might also agree to let the child's grandparents visit with the child during the soldier's absence.
Military-Related Issues
Federal law grants direct partial payments of military retirement to spouses married to a soldier for at least 10 years, but Texas requires division of any future military retirement benefits that accrued during the marriage regardless of its length. You must include a section in the divorce decree that spells out provisions for the Survivor Benefit Plan premiums, if any, as well as the length of the marriage, the time on active duty service and the computed amount of the retirement payments the spouse will receive, if any. Health care benefits will also continue for the minor children and, if the marriage lasted for 20 years, the spouse as well, so the soldier will be required to obtain military identification cards for his dependents as needed.
Finalizing
To finalize the divorce, one of the parties must appear at a brief hearing and present evidence to the judge. If the judge is satisfied with the written final decree of divorce and agreed parenting plan, she will sign them and grant the divorce. If the Army soldier filed the petition but cannot appear in court because of military duty, his spouse may appear instead. If, on the other hand, his spouse filed the divorce while he was away on active duty and they cannot reach an agreement, he may ask the court to postpone the final hearing in accordance with the Servicemember's Civil Relief Act of 2003.
References
Writer Bio
Marcy Brinkley has been writing professionally since 2007. Her work has appeared in "Chicken Soup for the Soul," "Texas Health Law Reporter" and the "State Bar of Texas Health Law Section Report." Her degrees include a Bachelor of Science in Nursing; a Master of Business Administration; and a Doctor of Jurisprudence.