Forms for Modification of Child Support in Florida
By Chris Blank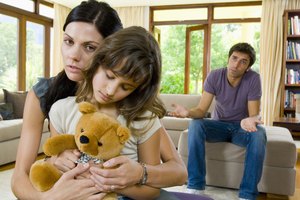 Pixland/Pixland/Getty Images
If you are ordered to make child support payments in Florida but you're having trouble meeting your obligation, you can seek an order to have your payments lowered. If you are receiving child support payments but your expenses have increased, you may seek an order to receive increased payments. However, you must file the proper paperwork and follow the required procedures. You may complete the required forms on your own, use an online legal document provider or consult with an attorney.
Petition and Financial Affidavit
To seek a modification of your child support order, either for an increase or reduction, you must file Form 12.905(b), Supplemental Petition for Modification of Child Support, with the jurisdiction where the original child support order was made. You must sign the form in the presence of a notary or a deputy clerk. You must also complete a financial affidavit and submit it within 15 days. There are two different financial affidavit forms -- one for annual incomes under $50,000 and a longer one for annual incomes above $50,000. However, you must use the longer Form 12.902 (c), Family Law Financial Affidavit, to address child support issues.
Service
Before the court acts on your petition, you must provide the other parent with notification by submitting Form 12.910(a), Summons, Personal Service on an Individual, either by the sheriff's department where the other parent lives or by private process server. Service by mail is not acceptable, and you may not serve the other parent yourself. In Florida, personal service must be made directly to the other parent or another person over age 15 living in the household. If you notify the other parent by personal service, the other parent must respond by filing a financial affidavit within 20 days. If you cannot find the other parent, you may make "constructive service" by publishing a notice after filing Form 12.913(b), Affidavit of Diligent Search and Inquiry. You may also provide notice by constructive service if the other parent lives in a different county or out of state. However, the courts may limit the relief granted to you if you serve the other parent by constructive service.
Default and Counter-Petition
Once your petition has been filed, the other parent must file a completed Family Law Financial Affidavit form within 20 days. If the other parent files an uncontested response, the court will schedule a final hearing upon your request. You must provide the other parent with notice for that hearing. If the other parent files a counter-petition, you must file a Notice for Trial, Form 12.924, as well as the Answer to Counter-Petition, Form 12.903(d), within 20 days. If the other parent fails to respond within 20 days, you may file a Motion for Default, Form 12.922(a), with the court clerk. You must provide notice to the other parent by filing Notice of Hearing (General), Form 12.923 or a similar form.
Supplemental Forms
Along with your petition and financial affidavit, you must file Form 12.932, Certificate of Compliance with Mandatory Disclosure, with the court. If the other parent files a contested response, you will also need to complete Form 12.902(e), Child Support Guidelines Worksheet, with your financial affidavit. If you are not receiving court-ordered child support payments or receiving only partial or sporadic payments, you may file Form 12.960, Motion for Civil Contempt/Enforcement, which must be served on the noncompliant parent.
References
Writer Bio
Chris Blank is an independent writer and research consultant with more than 20 years' experience. Blank specializes in social policy analysis, current events, popular culture and travel. His work has appeared both online and in print publications. He holds a Master of Arts in sociology and a Juris Doctor.