Rights for a Deported Father
By Robin Elizabeth Margolis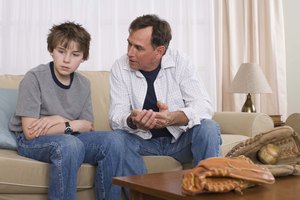 Jupiterimages/Comstock/Getty Images
An estimated 5.5 million children in the United States have an undocumented immigrant parent vulnerable to deportation. Approximately 4.5 million of these children are U.S. citizens. While deported fathers and mothers retain legal ties to their U.S. citizen children, it is very difficult to enforce these ties once they have been deported.
Deportation
As an immigrant father who could be or already has been deported, you may be among the 11 million undocumented immigrants who either entered the United States by crossing U.S. borders without the proper documents or you stayed beyond the time allotted by the visa stamp on your passport.
Fathers' Rights
Your children born in other countries and brought to the U.S. illegally are usually considered undocumented immigrants and can be deported. Your children born in the United States are U.S. citizens and have the right to remain in the United States. Under the U.S. legal system, you have a constitutional right to joint or shared custody and other contact with your children, unless you have been found to be an unfit parent for such reasons as neglect, abuse or abandonment.
Illegal Immigrant Deportation
When U.S. Immigration and Customs Enforcement arrests an illegal immigrant, the immigrant is taken to an ICE detention center, has limited contact with the outside world and is then deported. U.S. citizen children of immigrants arrested by ICE may be left with their other parent, if she is a U.S. citizen. If your children's other parent and relatives are also undocumented immigrants, or if you were the sole caregiver, your U.S. citizen children may be put into foster care.
Foster Care
Once in foster care, your U.S. citizen children may be mistakenly classified as abandoned, neglected or abused by you or their other parent, because you are now living in another country and cannot respond in a timely manner to requests from state child welfare agencies for information. Child welfare agencies have no internal requirement to call your country's consulates to locate you after you are deported.
Parental Rights Lost
If you contact a child welfare agency, asking that your U.S. citizen children be sent to you in your native country, agency staff may demand that you prove you have a new job, allow a home study and take parenting classes before your U.S. citizen children will be returned to you. If you cannot meet these demands before a legal deadline, your children may be put up for adoption, permanently terminating your parental rights.
Protecting Fathers' Rights
If you have been deported, locate your children by contacting the children's primary caregiver or the child welfare agency that put your children into foster care. It is also wise to contact the American Immigration Lawyers Association to find an attorney who will help you claim your parental rights.
References
Resources
Writer Bio
Robin Elizabeth Margolis is a freelance writer in the Washington, D.C., area. She has been writing about health care, science, nutrition, fitness and law since 1988, and served as the editor of a health law newsletter. Margolis holds a bachelor of arts degree in biology, a master's degree in counseling and a paralegal certificate.