What Happens During a Divorce Hearing in Florida?
By Cindy Chung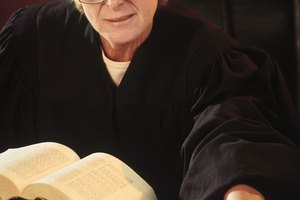 Comstock/Comstock/Getty Images
A divorce can feel like a lengthy or intimidating process, especially if spouses have a contested case that requires court proceedings. When spouses cannot agree on the legal issues of their divorce, they may have several hearings at a Florida circuit court or need to participate in a divorce trial. What happens during a divorce hearing or trial depends on the stage of the case and each party's requests to the court.
Contesting Legal Issues
When one spouse files for a divorce, known as a dissolution of marriage in Florida, the other spouse may file an answer and counter-petition. A Florida circuit court will often require several court hearings when spouses cannot agree on the terms of their divorce and there are contested differences between the petition and answer or counter-petition. During a divorce hearing or trial, the court typically gives each spouse an opportunity to present witnesses and evidence as well as cross-examine the other party's witnesses.
However, if both spouses agree to the divorce and qualify for a simplified dissolution, the court hearing often does not require testimony from witnesses or discussion of evidence presented by either party. Instead, a simplified dissolution allows the spouses to agree on a divorce based on their own terms.
Obtaining Temporary Orders
Spouses can file requests for temporary court orders during a pending divorce case. For example, a spouse might request financial support through temporary alimony or child support. A spouse may also request a temporary injunction against the other party's conduct during a pending divorce — for example, a parent may want to prevent the other spouse from taking the child to another state or out of the country. If either parent files a petition or motion for a temporary order, the court may need to hold a hearing to make a decision on the issue
Receiving Referrals to Mediation and Settlement Services
In a circuit court hearing during a contested divorce, the judge may suggest or order both spouses to participate in mediation services. In some Florida counties, mediation is a requirement. If spouses can successfully settle the terms of their divorce in mediation, they can return to court for a hearing and ask the judge to approve their agreement. However, if the spouses do not reach an agreement, the court must set a future date for a divorce trial to discuss contested issues.
Finalizing the Divorce
Spouses are not legally divorced until a Florida circuit court issues the final judgment for a dissolution of marriage. A final judgment includes court orders regarding a division of the spouses' assets and debts, alimony, parental rights and other legal issues related to the divorce. In a final hearing or during a divorce trial, the judge may tell the parties about the terms of the court orders the judge plans to issue. If the spouses negotiated their own divorce settlement for the judge's approval, the judge may use the hearing to discuss parts of the settlement agreement. Once the divorce is final, former spouses may need to return to court for additional hearings. This typically occurs when a spouse starts an appeal or requests a modification of the divorce judgment.
References
Resources
Writer Bio
Cindy Chung is a California-based professional writer. She writes for various websites on legal topics and other areas of interest. She holds a B.A. in education and a Juris Doctor.