What if My Wife Doesn't Accept the Divorce Notice?
By Maggie Lourdes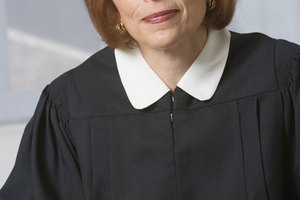 Jupiterimages/Creatas/Getty Images
A husband filing for divorce must give notice of the legal proceeding to his wife. Generally, personal notice is required; however, if his wife does not accept the divorce notice, the divorce can still proceed. Courts allow other ways for the husband to satisfy the notification requirement, usually through alternate service. The same rules of service apply regardless of which spouse, husband or wife, is filing for divorce.
Good Faith Effort
A husband must make a good faith effort to serve his wife with divorce papers before a court will allow alternate service, sometimes referred to as "substituted service." Typically, courts require at least three attempts at personal service before they permit alternate service. Additionally, courts may require a service attempt by certified mail. In addition, the court will likely request a list of the addresses used for service in order to verify they are current. If a wife has moved, a postal search request should be conducted to see if a forwarding address is available.
Motion for Alternate Service
Once a husband has demonstrated to the judge that he has made a reasonable effort to serve his wife, an alternate service order is proper. Typically, the husband must file a motion request with the court for alternate service along with an affidavit from the person who attempted to serve the papers. The motion should detail all service efforts made while the affidavit should verify the dates, times and addresses where those service attempts took place. A copy of any returned certified mailings should be attached along with proof that the address used for service was the wife's last known address.
Publishing Notice
A judge may order alternate service by publication. This is when notice of the pending divorce action is published in a local newspaper. Usually, the court will require that the notice include the names of the parties, assigned case number, court address, time allowed by law to respond to the proceedings, and language indicating a default judgment can be entered against a party for failing to respond. Courts often require the publication notice to run for three to four consecutive weeks.
Posting or Tacking Notice
In some states, a judge may permit notice to be served by posting or tacking. If the judge is convinced the wife is deliberately evading service, he can order the lawsuit affixed to her door. Another option the judge may order is posting of the notice in a public area of the courthouse. A court officer or sheriff may be required to complete the tacking to ensure it actually takes place.
Serving Third Parties
Courts often permit service of the divorce complaint on third parties, typically those who reside in the same residence as the wife. For example, if the judge knows the wife is residing with other people, regardless of who they are, he may order service on any person present at the residence who is 18 years of age or older. This may satisfy a judge that the wife will receive actual notice of the court proceeding.
References
Writer Bio
Maggie Lourdes is a full-time attorney in southeast Michigan. She teaches law at Cleary University in Ann Arbor and online for National University in San Diego. Her writing has been featured in "Realtor Magazine," the N.Y. State Bar's "Health Law Journal," "Oakland County Legal News," "Michigan Probate & Estate Planning Journal," "Eye Spy Magazine" and "Surplus Today" magazine.