How to Get Divorced After 40 Years of Marriage
By Valerie Stevens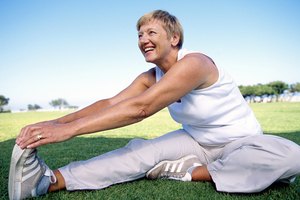 Goodshoot/Goodshoot/Getty Images
Divorce is hard any time, but it can create intensified financial and emotional burdens after 40 years. By the time a couple is married 40 years, both spouses are probably approaching retirement age. The legal process is the same for divorcing after 40 years as it is for divorcing after four years. However, the breakup of a long-term marriage involves more unraveling of intertwined lives.
Finances
One of the biggest problems that arise from divorcing later in life is the financial upheaval that follows. You might not be able to live the way you are used to living, even if you are awarded alimony. You also have less time to recover financially than if you were younger. You might lose your health insurance if you have been insured through your spouse. Tax planning and the value of some investments will change as you divide your assets. Determine the long-term value of your assets, such as a home, which may be a source of rental income in the future. Also, at age 62, if you have paid off your mortgage or significantly paid it down, you can often secure a reverse mortgage whereby you can withdraw some of the equity in your home on a monthly basis. However, houses can also depreciate in value. As such, you might want to consider sharing investment risks and taking a percentage of multiple assets. Take a good look at your budget and consider consulting a financial planner to help you with this transition.
Retirement Plans
In many cases, you will need to divide your retirement plans. Depending on the type of plan, you might have to petition the court for a Qualified Domestic Relations Order. A QDRO establishes an ex-spouse's legal right to receive funds from certain pension plans. Remember that survivor's benefits are a big part of the value of some pensions. To claim these benefits, you must be at least 60 years old if not disabled and not entitled to retirement benefits in an amount that is equal to or greater than your former spouse's benefit. There are also other requirements concerning remarriage. Further, divorce can also affect your Social Security benefits when you begin to receive them. A financial planner can best explain the eligibility requirements concerning all these benefits.
Estate Planning
After 40 year of marriage, you will probably have to update your estate planning to reflect your new priorities. You can update some documents prior to the finalization of your divorce such as a power of attorney document, living will or health care proxy. You can also update accounts with named beneficiaries, such as life insurance policies or individual retirement accounts, prior to the divorce. Because of the language regarding spouses and marital shares laws, wait until after the final divorce to sign wills and trusts. However, you can hire a lawyer to draft all the new documents and wait until after the divorce is final to sign a will or trust.
Emotions
A couple that has been married for 40 years usually has built a life together, complete with an extended family and network of friends. After going separate ways, you probably don't want to spend a lot of time with your former spouse. Traditional gatherings and holidays might be complicated, so plan ahead to do something different. Vary your routine and seek out new locations for your leisure activities. Because of the length of your marriage, you might have an increased sense of betrayal, according to Janice Green, attorney and author "Divorce After 50." Buy a book written for divorcees of long marriages or attend a support group. If you are still having trouble coping with your new life, find a good counselor.
References
Writer Bio
Valerie Stevens is a professional writer and editor based in the Carolinas. She was an editor at daily newspapers for 20 years and now works as a paralegal. She has edited several books and her work has been published in The Knoxville News-Sentinel, The Springfield Daily News, The Georgetown Times and Natural Awakenings magazine. Stevens holds degrees in journalism and paralegal studies.