How Do I Get Custody of My Son if My Ex-Husband Is Going to Jail?
By Robin Elizabeth Margolis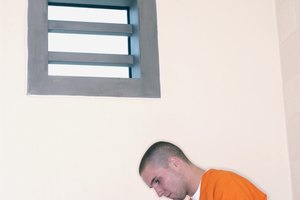 Thinkstock Images/Comstock/Getty Images
You have a good chance of getting custody of your son if your ex-husband is going to jail. Although courts are ordinarily reluctant to deprive or reduce any parent's custody and visitation rights, a court will usually transfer custody of a child to a child's mother or other biological relative if the child's father is going to jail.
History
In earlier eras of British and American history, children of imprisoned fathers were sometimes allowed to live with them and their fathers retained custody. Charles Dickens' 1857 novel, "Little Dorrit," describes an imprisoned widower, William Dorrit, who has custody of his three young children. The children grow up in the London debtors' prison where Dorrit is incarcerated. Prison system changes in England and America in the second half of the 19th century resulted in children no longer being allowed to live with incarcerated fathers.
Return to Court
Your current custody arrangements were created by a custody decree, residential schedule or parenting plan issued by a court. To get custody of your son, you need to return to the court that issued the original custody order and have the order modified, transferring your son into your sole custody.
Modify Custody Order
Each state has its own forms, filing fees and other requirements for filing a request to change your child's custody order, usually called a "motion to modify custody." Some states, such as Alaska, have online self-help centers from which you can download the necessary forms. You can also call the clerk's office of the court that issued your original custody decree and find out what forms and fees that court requires. The Family Law Organization maintains links to the child custody laws in every state.
Hearing Standards
Once you have filed the correct forms and paid the required filing fees, you will be asked to appear at a court hearing to explain why you want the custody order changed. Courts use two standards to determine if a custody order will be changed.
The first standard asks if the requested custody change is in the "best interests" of the child. The second standard seeks proof that there is a "substantial change of circumstances" in the custodial parent's life. If you bring adequate proof to the court that your ex-husband is going to jail, a court will likely consider that both standards have been met. The court will then issue an order for modification of custody and visitation, spelling out the new custody arrangements.
Potential Problems
If you have previously had little contact with your son for any reason, your husband could ask the court to give custody of your son to another relative. Finally, even if you obtain sole custody of your son, your ex-husband may still seek visitation rights, including asking that your son be brought to see his father while he's jailed, and allowed to see his father regularly once his father is released from jail.
If you have never had a formal legal custody order for your son and you left him with his father through an informal arrangement, you need to start a formal child custody proceeding to obtain custody of your son, which will require different legal forms than a custody modification proceeding.
References
Resources
The Oxford History of the Prison: The Practice of Punishment in Western Society; Norval Morris and David J. Rothman
Writer Bio
Robin Elizabeth Margolis is a freelance writer in the Washington, D.C., area. She has been writing about health care, science, nutrition, fitness and law since 1988, and served as the editor of a health law newsletter. Margolis holds a bachelor of arts degree in biology, a master's degree in counseling and a paralegal certificate.