Can Divorce Papers Be Rescinded Once Signed?
By Beverly Bird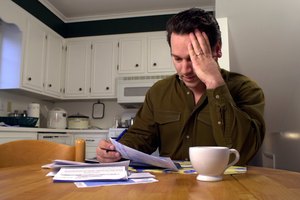 Thinkstock Images/Comstock/Getty Images
Your ability to rescind divorce papers after signing them depends a great deal on exactly what you signed and what you want to take back. If you signed a divorce complaint or petition and then decide to stop the divorce process, it's usually not a complicated procedure. However, if you signed a marital settlement agreement ending your marriage, and if you no longer want to abide by the divorce terms to which you agreed, you should speak with an attorney. Rescinding a marital settlement agreement is much more difficult and you probably could not accomplish it without professional help.
Complaints and Petitions
If you signed and filed a complaint or petition for divorce with the court, you can dismiss it of your own free will. This is a simple matter of advising the court that you don't want to move forward with your lawsuit. You would file a request for dismissal or a notice to withdraw; the exact name of the document varies from state to state. However, if your spouse filed a counterclaim or counter-petition with the court in response to your complaint, your request to dismiss will not end the divorce proceedings. If you withdraw your own complaint, the divorce will proceed without your participation or involvement. If you have children, property or debts at stake, and if your spouse filed a counterclaim, you should seek a lawyer's advice before you rescind your petition or complaint.
Marital Settlement Agreements
If you signed a marital settlement agreement that you're no longer comfortable with, you may have a limited window of time in which to retract your agreement. This depends on the legal procedures in your particular state. Generally, when you sign a marital settlement agreement, your lawyer will then forward it to the court for incorporation into a divorce decree. Until a judge signs the decree, you may be able to change your mind. If an attorney represented you in your divorce negotiations, tell him immediately that you don't want to go forward with the agreement. If you did not use an attorney, notify the court as soon as possible that you've changed your mind.
Judgments or Decrees
After a judge has signed a divorce judgment or decree incorporating the terms of your signed marital settlement agreement, it may not be possible for you to rescind the agreement. You cannot appeal a decree that you reached by agreement with your spouse. You can only appeal a judge's ruling if your divorce went to trial. If you want to rescind your marital settlement agreement after the court has signed it into a decree, you would have to file a motion with the court, asking to have your divorce case reopened. Courts will generally only do this under certain circumstances. You can't just say you changed your mind. You would usually have to prove that your spouse acted fraudulently in your settlement negotiations, such as by lying or concealing assets. You might also have a case if you could prove that your spouse threatened or coerced you into signing the marital settlement agreement.
Options
If you fail to persuade the court to reopen your divorce case, you may have one other option. However, it involves having your spouse's consent. You can usually file a consent order or stipulation with the court, voluntarily changing the terms of the marital settlement agreement you signed. The court will approve it, but only if you and your spouse both agree to the change and sign the consent or stipulation.
References
Writer Bio
Beverly Bird has been writing professionally since 1983. She is the author of several novels including the bestselling "Comes the Rain" and "With Every Breath." Bird also has extensive experience as a paralegal, primarily in the areas of divorce and family law, bankruptcy and estate law. She covers many legal topics in her articles.