The Steps to Get Legally Married in Miami, Florida
By Beverly Bird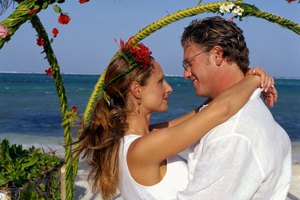 Creatas/Creatas/Getty Images
Chapter 741 of the Florida Statutes governs marriages within the state. You don't have to be a resident to marry in Florida, but you must be at least 18 years old to apply for a marriage license. However, in Miami, you can marry if you're 16 or 17 years old and a parent signs a consent form. If you're younger than 16, but you have a child together or if a woman is pregnant, parental consent is waived. However, a physician must confirm the pregnancy or you must submit your child's birth certificate when you apply for a license.
Premarital Counseling
Florida law encourages premarital counseling. If you and your intended spouse complete a four-hour course offered by a court-approved provider, you'll save $32.50 on the cost of your marriage license, as of the time of publication. If you're not a Florida resident, you don't have this option. If you decline to take the course, you'll receive a copy of Florida's family law handbook at the time you apply for your marriage license; you're obligated to read it. If you elect to take the course, you must do so within 12 months of your wedding. A list of approved providers is available on the website of the Miami-Dade County Clerk of the Courts.
Marriage License
Both you and your spouse must go together to apply for a marriage license from the marriage license office of the clerk of the courts. The office is located at 73 West Flagler Street in Miami. You'll need a photo ID, such as your driver's license, and your Social Security number. Some counties actually require a copy of your Social Security card, but Miami-Dade does not. If either you or your intended spouse were previously married, you'll also need the exact date of your annulment or divorce, or the date your former spouse died.

Read More: What Happens if a Marriage License is Never Turned In?
Waiting Period
If you've elected to take the premarital counseling course, Florida does not impose a waiting period between the time you receive your marriage license and when you can marry. Otherwise, there is a three-day wait. If you're not a Florida resident, you can still skip the waiting period if you've taken premarital counseling, even though you're not eligible for the reduced marriage license fee. You must use your marriage license within two months of its issue; otherwise, you'll have to apply again.
The Ceremony
You don't necessarily have to be married in the same Florida county where you obtained your marriage license. If you elect to be married in Miami-Dade County, the deputy clerk at the marriage license office can perform the ceremony for you. If you prefer, you can also have a notary public, ordained clergy or a judge marry you.
After the Ceremony
If you get your marriage license in Miami-Dade County, and if you marry there as well, the individual who performs your ceremony will sign your marriage license and return it to the marriage license officer for recording. Otherwise, depending on the county in which you applied for your marriage license, you may have to return the signed license to the court clerk yourself.
References
Resources
Writer Bio
Beverly Bird is a practicing paralegal who has been writing professionally on legal subjects for over 30 years. She specializes in family law and estate law and has mediated family custody issues.