What Do They Look for in Custody Cases in Pennsylvania?
By Beverly Bird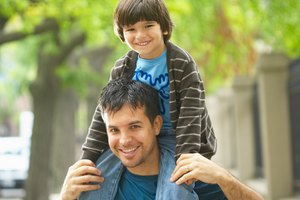 Jupiterimages/Photos.com/Getty Images
Pennsylvania revamped its child custody laws effective January 2011. Historically, like other states, Pennsylvania based custody decisions on the best interest of the child. However, what qualified as a child's best interest was ambiguous before 2011. The state's legislation now contains more specific criteria. Judges are required to explain how they applied these factors to each case, either within a custody order or verbally in court.
Frequent Contact With Both Parents
Pennsylvania's custody legislation, known as Act 112 of 2010, specifically states that judges must "assure a reasonable and continuing contact of the child with both parents," provided that neither parent is unfit. Judges are alert for behavior on the part of one parent that disrupts the child's relationship with the other, such as denying visitation. Under Act 112, a parent who willfully violates the terms of a custody order is subject to criminal charges. The offense is punishable by up to six months in jail, up to six months' probation and a possible fine of $500. A parent who actively encourages visitation and contact with the other wins favor in a custody dispute.
Disruption to the Child's Life
The 2011 law requires Pennsylvania judges to avoid disrupting a child's life as much as possible when parents separate. When one parent remains in the marital home, this means not forcing a child to move from that home to live with the parent who now lives elsewhere. This portion of the law also addresses moving a child to a new school district or away from his friends to satisfy a parent's request for custody. The stability and consistency of the child's life is paramount.
Parental Availability
Pennsylvania law presumes that parents are the best caregivers for their children. A parent's availability to care for a child placed in his custody will influence the court. Third-party care is often unavoidable when both parents work. However, the 2011 statute also cites ample contact with a child's extended family. Pennsylvania courts prefer a parent with a flexible work schedule and willing family members who can step in to care for the child when he is unavailable.
Parents' Genders
Pennsylvania's old child custody statutes created a preference for one parent over the other based on gender. A judge might have placed a girl with her mother or a boy with his father, believing this would be in the child's best interest. Under the 2011 statutes, judges may no longer consider parents' genders in custody disputes.
Other Factors
In all, Pennsylvania courts must consider 16 separate criteria when deciding custody under the terms of Act 112. However, some factors may be deemed more important than others on a case-by-case basis. The 16th factor is a catch-all category for anything else a judge might think is important. Other issues judges can consider include either parent having a criminal record, including a DUI conviction. Act 112 requires a special hearing if such offenses exist.
References
Writer Bio
Beverly Bird has been writing professionally since 1983. She is the author of several novels including the bestselling "Comes the Rain" and "With Every Breath." Bird also has extensive experience as a paralegal, primarily in the areas of divorce and family law, bankruptcy and estate law. She covers many legal topics in her articles.