Divorce Mediator Process in New Jersey
By Beverly Bird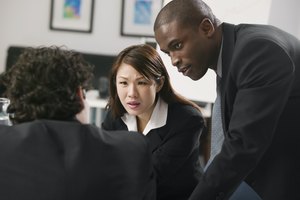 Comstock Images/Comstock/Getty Images
Like most states, New Jersey wants you to reach a divorce settlement on your own, without undue court involvement. The state mandates three separate mediation-type programs to help spouses work their way through the divorce process. The New Jersey court system also makes additional mediation available to spouses who want it and think it will help.
Parent Education Program
If you file for divorce in New Jersey, and if you have children, you will receive a notice from the court almost immediately after your spouse files an answer to your complaint. This notice schedules you for the parent education program (PEP), and your attendance is mandatory. At least two social workers and one court-approved mediator will educate you regarding New Jersey's custody mediation system. PEP is a one-time seminar-type proceeding of about three hours. It does not address personal issues regarding your own custody situation. Several other divorcing parents will attend the seminar at the same time you do.
Custody Mediation
After both you and your spouse have attended PEP, you'll receive a second notice scheduling you for custody mediation. The mediator will work with you and your spouse to try to help you come to an agreement regarding a parenting plan. In New Jersey, most mediators are attorneys, court personnel or other individuals with considerable family law experience. If you have an attorney, he will probably meet with you prior to mediation, because if you reach a tentative agreement and sign it at the time, it's binding. If you change your mind a few days later, it is usually difficult, though not impossible, to undo what you've signed. If you don't sign, you can still attempt to work out a parenting or custody plan by consent up until the time of your trial.
Matrimonial Early Settlement Panel
In New Jersey, the MESP, or matrimonial early settlement panel, addresses issues between you and your spouse that relate to property division, not custody. It's another form of mediation. You, or your attorney, will present the details of your marital property to a panel of attorney experts. Your spouse or his attorney will do the same. The panel will make a recommendation for settlement, and it is usually pretty close to what a judge will order if you go to trial. You then have an opportunity to negotiate a settlement with your spouse based on the recommendation. MESPs take place at the courthouse, so if you reach a settlement, many attorneys will schedule an immediate appointment with a judge. The details of your agreement are placed on the record. If you've completed custody mediation and you have a parenting plan in place, you can be divorced that day. Otherwise, you or your attorney will have to request a trial date.
Other Mediation Options
Trials are usually scheduled a month or two in advance, depending on your New Jersey county. If you still think mediation will help you, you or your attorney can ask the court to order further mediation during this time. If you and your spouse own a business together or marital property with significant value, you can ask for a blue ribbon panel. This is very similar to the MESP proceeding, but the attorneys have more experience with "high asset" divorces. You can also ask the court to order mediation with a court-approved mediation firm or attorney who specializes in the financial aspects of divorce. If you choose this option, it's very similar to custody mediation, but only economic issues between you and your spouse are addressed. Only if all these options fail would you proceed to trial.
References
Writer Bio
Beverly Bird has been writing professionally since 1983. She is the author of several novels including the bestselling "Comes the Rain" and "With Every Breath." Bird also has extensive experience as a paralegal, primarily in the areas of divorce and family law, bankruptcy and estate law. She covers many legal topics in her articles.