How to File an Uncontested Divorce in Tennessee
By Beverly Bird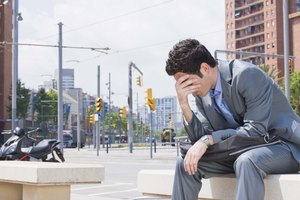 Jupiterimages/Polka Dot/Getty Images
Although an uncontested divorce can mean that your spouse isn't responding to your divorce papers and won't involve herself in the process, in the truest sense it means that you have come to terms on all issues. Tennessee offers a simplified divorce when this is the case. Although the state recognizes 12 different fault grounds, these generally pave the way for a contested matter. If you're filing what you expect to be an uncontested divorce, you can use the no-fault ground of irreconcilable differences.
Prepare your complaint for divorce. This is form 100, available through your county court or online. Fill in the blanks to provide information about you, your spouse, your marriage, your assets and debts, and your children. If either you or your spouse have children from another relationship, you would not include them. Do not fill in the box that says "Case Number" in the upper right corner of the first page. The court will do this later.
Write the terms of your agreement with your spouse on Tennessee form 400, a marital dissolution agreement. This will address financial issues between you, including child support. You'll have to detail your agreement regarding custody and visitation in a separate document, a permanent parenting plan, which is form 145.
Attend the state's parenting class, which is required by Tennessee law for all divorcing parents even if your matter is uncontested. The court can give you contact information so you and your spouse can enroll. After both of you have attended the class, attach copies of your completion certificate to your parenting plan.
Collect and complete the other documents you'll need to file with the court. These include form 10, a case cover sheet, and form PH1682, a certificate the court will file with the Department of Public Health to record your divorce. If you have children and either you or your spouse will be paying child support through Tennessee's collection unit, you will also need to complete a wage assignment order.
File all your documents, including your marital dissolution agreement, with the court. Your spouse should go to the courthouse with you, because some counties will require her to sign a waiver of service and an appearance acknowledging her participation in the case. Other counties will allow you to include her waiver of service in your marital dissolution agreement. You can use either the circuit court or the chancery court in the county where you live, where your spouse lives or where the two of you lived together. Pay filing fees.
Tips
There is no residency requirement for filing for divorce in Tennessee as long as you lived there together when your marriage ended. Otherwise, either you or your spouse would have to live in the state for six months before you can file.
References
Writer Bio
Beverly Bird has been writing professionally since 1983. She is the author of several novels including the bestselling "Comes the Rain" and "With Every Breath." Bird also has extensive experience as a paralegal, primarily in the areas of divorce and family law, bankruptcy and estate law. She covers many legal topics in her articles.