How to Stop a Divorce After the Papers Have Been Filed
By Beverly Bird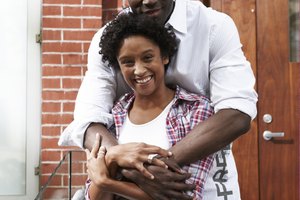 Chris Clinton/Lifesize/Getty Images
If you're not the spouse who filed for divorce, you probably can't stop the process. You can contest the grounds your spouse cites in her divorce petition and you can argue custody and property settlement, but no state will force her to remain married to you if she doesn't want to. If you filed the divorce petition, however, you can usually stop the process, especially if you change your mind early in the proceedings.
Go to the courthouse where you filed your petition for divorce and speak with the clerk. Tell her you want to stop the process and ask for the proper form you must file to achieve this. Although these forms are sometimes available on the Internet, different jurisdictions have different rules. If you confer with the court, you'll be sure to get the right form.
Complete the document. In most states, it is a simple one-page form that states that you are voluntarily dismissing or withdrawing your own case. You don't owe the court an explanation for why you've made this decision.
Take the completed document and several additional copies back to the court clerk. The clerk will stamp all your copies as "filed" and return at least one to you for your records and for service on your spouse.
Serve your spouse with a copy of your dismissal if your state requires it. Not all do. In some jurisdictions, the court will send her a copy on your behalf. In other jurisdictions, you might have to give it to her yourself or mail her a copy by certified mail. Because she's not required to do anything in response to it or defend herself against the document you've filed, you generally do not have to use a sheriff or private process server to give her a copy. You usually don't have to file proof with the court that you've served her, but this might vary depending on where you live.
Tips
Depending on how far along you are in the divorce process, the courts in some states may require your spouse's consent to stop it. If you do it before she has filed an answer to your divorce petition with the court, you can usually end the divorce without fuss by filing your request for dismissal. If she has actively participated in the divorce process, however, the court might call for a brief hearing to establish under oath that she wants to stop the divorce as well. If she does not and indicates that she wants to move forward, you may not be able to dismiss your petition.
Warnings
There are several types of documents your spouse might file with the court when she responds to your divorce petition. If she has filed a counterclaim rather than an answer or an appearance, this will complicate the issue. A counterclaim is a complaint or petition for divorce in and of itself. You can dismiss your petition, but the divorce will stay "alive" unless and until she dismisses her counterclaim as well. In this case, she must file the same sort of dismissal with the court as you did.
References
Writer Bio
Beverly Bird has been writing professionally since 1983. She is the author of several novels including the bestselling "Comes the Rain" and "With Every Breath." Bird also has extensive experience as a paralegal, primarily in the areas of divorce and family law, bankruptcy and estate law. She covers many legal topics in her articles.