How to Prepare a Divorce Complaint
By Beverly Bird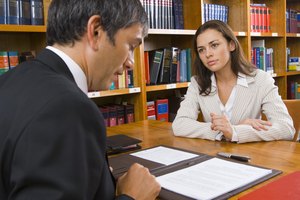 Pixland/Pixland/Getty Images
After you get past the "legalese," a divorce complaint is a relatively straightforward document. It states the facts of your marriage, why you want a divorce, and how you would like the court to divide your property and set a custody and visitation order for your children. Though the exact format differs from state to state, most follow these general guidelines.
Print your name and contact information in the upper left corner of the first page, then create your caption directly below this. The caption should include your name as plaintiff or petitioner, your spouse's name as defendant or respondent, the name of the court that oversees divorces in your state and the county you're filing in. State that your divorce is a "civil action" and that your document is either a petition or complaint for divorce or dissolution, depending on the terminology used in your state. Leave a blank space for the court to fill in your docket or case number when you file your complaint.
Begin your complaint by identifying yourself in the first paragraph and stating that you are asking the court for a divorce, then give information regarding yourself, your spouse and your marriage. This includes the date you were married, your respective addresses and the fact that you've resided in your state for the requisite amount of time to be able to legally file for divorce there. If you have children, list their full names and birth dates. Some states require you to also state which parent your children have been living with. List each of these items in a separate paragraph and number the paragraphs.
Explain your grounds for divorce. If you're filing on a no-fault ground, such as irreconcilable differences or irretrievable breakdown of your marriage, it is usually sufficient to simply say this. If you're filing on one of your state's fault grounds, most states require that you itemize instances of your spouse's misconduct in subparagraphs below the paragraph where you state your ground for divorce.
Tell the court about your "prayers for relief," or how you would like it to rule regarding the terms of your divorce. Begin by stating that you're asking the court to order these things, or that as the plaintiff, you're "demanding judgment." Start with the obvious, that you want a divorce or dissolution, then state whether you want sole custody of your children or you're willing to share custody. Most states require that if you have children, you mention this in your prayers and request an order setting custody and child support. Tell the court if you want alimony and ask the court to divide your property.
Finish your prayers for relief with a request that the court rule on any other issues that may come up after you file. You can do this by stating that you're requesting any "further relief that the Court deems equitable" or that you're requesting "anything else the Court deems fair." Sign and date your complaint.
Tips
Some states, such as Connecticut, provide preprinted divorce complaints that only require you to fill in the blanks. You can usually access them from your state's website or request one from the court clerk. Other states, such as New Jersey, require you to write your own. If you must do this, avoid handwriting it. Type it or print it out from your computer. An attorney can assist you with your preparation if you feel uncomfortable.
References
Writer Bio
Beverly Bird has been writing professionally since 1983. She is the author of several novels including the bestselling "Comes the Rain" and "With Every Breath." Bird also has extensive experience as a paralegal, primarily in the areas of divorce and family law, bankruptcy and estate law. She covers many legal topics in her articles.