Do-It-Yourself Divorces in California
By Jeff Franco J.D./M.A./M.B.A.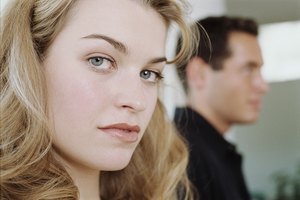 Polka Dot Images/Polka Dot/Getty Images
California is a no-fault divorce state, meaning that the courts will not consider the guilt or innocence of either spouse. If you choose a "do-it-yourself" divorce to save money on attorney fees, you must familiarize yourself with the procedural guidelines of the superior court that has jurisdiction over your case. However, if your spouse contests the divorce, the process will increase in complexity and may require legal assistance.
Residency Requirements
The initial step in all California divorces is determining which county's superior court has jurisdiction over your divorce proceedings. Provided that you or your spouse is a resident of California for at least six months prior to commencing the divorce action, the state will have jurisdiction over your divorce proceedings. You or your spouse must live in the county where you plan to file the divorce for at least three months.
Initial Court Forms
Once you determine the appropriate superior court, you must complete a petition for divorce using Form FL-100. The petition requires you to report personal information, such as the length of your marriage and a list of all assets you own, as well as debts for which you are personally liable. However, later in the proceedings, the court will require additional financial disclosures in more detail from you and your spouse. When you prepare the divorce petition, you must also state your preferences in regards to physical and legal custody of your children, visitation rights of the noncustodial parent, and requests for alimony payments. You must notify the court of the children's current living arrangements on Form FL-105. As the party filing for the divorce, you must also prepare a summons on Form FL-110, attach it to copies of all initial court filings and provide your spouse with notice of the divorce proceedings.
Proof of Service
Pursuant to California law, the party who files for the divorce has the responsibility of serving the spouse with copies of the petition, summons and Form FL-105 and to file the appropriate proof of service with the court after the delivery. In addition, the service must include a blank Form FL-120 and Form FL-105, which your spouse will use to draft his responses. You cannot serve the documents yourself; you can hire a process server or ask any person, other than your children, who is 18 or older to deliver the documents. Typically, you must arrange for hand-delivery of the documents; however, your spouse can waive his right to personal service and accept the documents by mail.
Final Agreement
When all forms are complete and there are no issues that you or your spouse contest, the last step is to draft a final agreement that states how you will split the marital property, the frequency and amount of alimony payments, child custody and visitation schedules, and all other decisions that are necessary before finalizing the divorce. Depending on the specific circumstances of your case, there may be additional forms you and your husband must file to finalize the divorce.
References
Writer Bio
Jeff Franco's professional writing career began in 2010. With expertise in federal taxation, law and accounting, he has published articles in various online publications. Franco holds a Master of Business Administration in accounting and a Master of Science in taxation from Fordham University. He also holds a Juris Doctor from Brooklyn Law School.