The Average Cost of an Uncontested Divorce
By Beverly Bird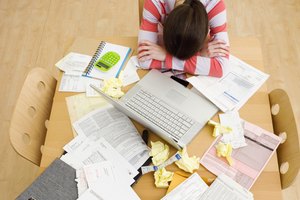 Jupiterimages/Comstock/Getty Images
When you and your spouse agree to divorce and you also agree about how you're going to separate your lives, an uncontested divorce can save you a great deal of money. Exactly how much it will cost you depends on several factors. If you feel comfortable handling the matter yourself and you don't mind doing a little research into your state's legal procedures, you might spend less than $500. If you hire an attorney to take care of the details for you, that figure might rise even higher.
Representing Yourself
If you decide you don't want to use an attorney, you have two options. You can purchase a divorce kit on the Internet, usually for less than $100. These include all the forms and documents necessary for your state. You can usually get the same forms for free if you want to invest some time into tracking them down. Many states offer them on their judicial websites, along with detailed instructions. You might also be able to get them from your local courthouse or find a format you can follow at a public law library.
Using an Attorney
If you choose to use a lawyer, the cost of your uncontested divorce will depend on where you live, who you hire and your fee arrangement. Many attorneys offer flat fees for uncontested divorces; others charge retainer fees, which act as deposits they bill against monthly for the hours they invest in cases. The average flat fee ranges from $200 to $1,500, depending on the complexity of your assets and whether you have children. If you retain an attorney, he will bill your deposit at the rate of $250 to $450 for each hour of his time. Attorneys practicing in large metropolitan areas may charge more than $450, and those in rural areas may charge less than $250.
Extra Costs
Whether you handle your divorce yourself or hire an attorney, there will be extra costs. State courts charge a filing fee for a divorce petition, usually in the neighborhood of $200. If you use a sheriff or private process server to deliver your petition to your spouse, this will cost an additional $35 to $100. In most states, you can bypass this expense if you're on amicable terms with your spouse. He can sign an acceptance of your petition or waiver of service, which you would then file with the court. Realistically, you should add an additional $300 to $350 onto the cost of your divorce kit or your attorney's fees for these expenses.
Other Options
You also have some "hybrid" options to cut your costs of an uncontested divorce. Legal services online will prepare your divorce paperwork for you, which costs more than purchasing a kit but usually less than retaining attorney. The average cost is about $300. You can also hire an attorney by the hour to review your paperwork for you. This will cost less than a flat uncontested divorce rate, but would not require putting down a retainer fee. You're not retaining the attorney; you're purchasing his time by the hour, just for specific services.
References
Writer Bio
Beverly Bird has been writing professionally since 1983. She is the author of several novels including the bestselling "Comes the Rain" and "With Every Breath." Bird also has extensive experience as a paralegal, primarily in the areas of divorce and family law, bankruptcy and estate law. She covers many legal topics in her articles.