How to File an Uncontested Divorce in the Commonwealth of Virginia
By Beverly Bird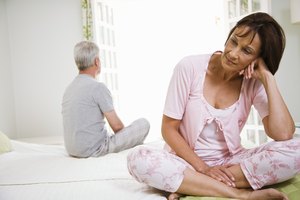 Jupiterimages/Creatas/Getty Images
A Virginia uncontested divorce is one in which you and your spouse agree that you're not going to involve the court any more than is necessary. The judge will grant you a divorce based on your own agreements as to how to you're going to provide for your children and divide your debts and property. Virginia requires that you or your spouse have lived there for six months before you can file. If you're on active duty in the military and you're stationed in Virginia, this counts as residency.
Prepare a Bill of Complaint for Divorce, available through the commonwealth's legal services organizations, as well as their websites. The form is self-explanatory and involves filling in basic information. Virginia has five fault grounds, but you must prove them to the court, so they may not be appropriate for an uncontested matter. You can file on no-fault grounds of a year's separation, or six months if you don't have children.
Take your completed and signed complaint to the circuit court for filing. You can use the court in the county where your spouse lives, the county where the two of you last lived together, or your own county if your spouse is no longer a resident of Virginia.
Prepare a waiver for your spouse to sign, also available through the commonwealth's legal aid services. The waiver indicates that he is not opposing the divorce and that he does not want to receive official service of your complaint by the county sheriff.
Ask any person over the age of 18 to give your spouse a copy of your filed complaint and the waiver; the law doesn't allow you to do it yourself. The person you ask should bring the signed waiver back to you so you can file it with the court. It will tell the legal system that your matter is uncontested.
Calculate the appropriate amount of child support for your situation by completing a child support guidelines worksheet. These are available from the court clerk. The worksheet will tell you how much child support a judge would order if your matter were contested and you went to trial.
Prepare a property settlement agreement, detailing all the terms of your divorce. Be comprehensive: You must address and come to consensus with regard to every issue between you, such as the division of your property and debts, a parenting plan addressing custody and visitation, the amount of child support you arrived at through the worksheet and spousal support, if applicable. The term "property settlement agreement" does not mean that the agreement relates only to your property. Both you and your spouse must sign the agreement and you must have your signatures notarized.
Attach the property settlement agreement to a proposed divorce decree and state in the decree that the agreement will control all issues between you and your spouse. You can also find a sample form for a decree through Virginia's legal aid services.
Call the court and schedule an "ore tenus" hearing, which is a type of hearing in which you verbally make your request for a divorce.
Tips
When you attend the hearing, take a copy of your marriage license with you and at least three copies of your decree with the attached property settlement agreement. You will also need to take a witness with you to substantiate that you and your spouse were separated for the required time under Virginia law, and that you've met the state's residency requirements. The judge will sign and stamp your decrees, finalizing your divorce.
Warnings
Sizable estates and child custody can complicate a divorce. Seek the advice of an attorney if you need guidance.
References
Writer Bio
Beverly Bird has been writing professionally since 1983. She is the author of several novels including the bestselling "Comes the Rain" and "With Every Breath." Bird also has extensive experience as a paralegal, primarily in the areas of divorce and family law, bankruptcy and estate law. She covers many legal topics in her articles.