How to File for Divorce With No Money
By Tom Streissguth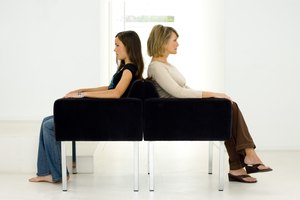 Jupiterimages/Pixland/Getty Images
If you would like a divorce but have very limited financial means, you may be able to file the necessary papers without paying the court fees. Most civil courts have provisions that allow the indigent to carry out some basic legal procedures. Every jurisdiction has its own guidelines for waiving fees. Carefully follow the instructions provided by your local court clerk for this process.
Obtain the necessary petition that opens a divorce case by going down to your local courthouse and requesting a blank form. Most courts also have online forms that you can download, fill in and then print out. In addition, ask for or print out a fee waiver petition. You must meet your state's residency requirements, which do not allow you to file for divorce unless you or your spouse have lived within the state or the county in which you file for a minimum period of time.
Complete the divorce petition, giving the required information. This will include your name and address, the name and address of your spouse, any minor children of the marriage (natural or adopted) and the grounds for the divorce -- many states allow for "irreconcilable differences," meaning you do not have to allege or prove specific grounds for the action.
Fill in the fee-waiver petition, which will claim that you do not have the resources to pay the filing fee for the divorce petition. You must also fill out a form listing your current income, if any, as well as your resources, including savings, investments, property and any cash balances in checking accounts. Make copies of your paychecks, bank statements, lease, utility bills and other statements proving your financial statement. You will have to sign the petition and an affidavit form in front of a notary. The court clerk may also notarize your paperwork, provided you have valid photo identification.
Attach the completed and signed fee waiver petition to the divorce petition and submit these forms to the court clerk, who will date-stamp the forms and enter them into the public record. The clerk will either have the forms reviewed by a member of the court staff or schedule a hearing before a judge on the fee-waiver petition. If the fee-waiver petition is approved, you will also have to draw up a marital settlement agreement with your spouse and prepare for a hearing on the settlement. Some states provide for simplified divorce in which the paperwork can be completed and the divorce finalized in a very short time; sometimes less than a day.
Items you will need
Petition for Dissolution of Marriage

Fee waiver petition
Tips
The states set guidelines for the granting of fee waivers. Most set them by an income level as compared to the federal poverty guidelines. In Minnesota, for example, you may have the filing fee waived if your income falls below 125 percent of the federal poverty level.
Some states require the fee-waiver affidavit and petition be signed and sworn to before the court clerk. In any case, these forms must always be witnessed and notarized.
The review of your fee-waiver petition may result in only a partial judgment in your favor, meaning, the court may require you to pay a portion of the required filing fee.
Warnings
A fee-waiver petition and affidavit is a sworn document. Any misrepresentation on these forms represents perjury and is a criminal offense.
References
Writer Bio
Founder/president of the innovative reference publisher The Archive LLC, Tom Streissguth has been a self-employed business owner, independent bookseller and freelance author in the school/library market. Holding a bachelor's degree from Yale, Streissguth has published more than 100 works of history, biography, current affairs and geography for young readers.