How to File a Written Answer to a Divorce Petition
By Anna Assad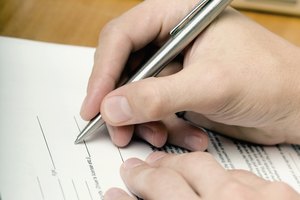 Medioimages/Photodisc/Photodisc/Getty Images
You must file a written answer to a divorce petition as soon as possible to avoid missing the court deadline for the response. If you fail to file the answer in time, the court might grant the other party all the items he requested in the divorce petition, leaving you with no way to contest the divorce or challenge the provisions. The answer is your formal response to all the allegations the other spouse made in the petition.
Check the petition papers to see if an answer form is included. Courts typically have preset forms for answers to divorce petitions, and the form might have been mailed with the papers. Check the petition for the deadline by which you must file your answer.
Contact the court if no answer form was included with the petition papers. Ask for an answer form and court instructions.
State what you disagree with on the petition and why on the answer form. Follow the court instructions regarding formatting and word usage. For example, you may simply have to use "admit" for allegations you agree to and "deny" for items you don't, with facts supporting the denials. Carefully review the petition while preparing the answer form to avoid forgetting important issues.
Bring the written answer form and your photo identification to a notary public. Sign and date the form in front of the notary and have the signature notarized. A notary public is typically available at government buildings and banks. Make at least two copies of the notarized answer.
Bring the answer and copies to the court where the petition was filed. File the answer, and pay any required fee. Ask the court how you must send notice of the answer to the other party. Court requirements vary by jurisdiction; you might have to send a copy of the answer by certified mail or regular mail, or you might have to have the document personally served on the other party.
Tips
Consult an attorney if you need assistance with the process.
Warnings
Follow the court instructions regarding the answer format. Your answer may be rejected by the court if you don't follow the instructions.
References
Writer Bio
Anna Assad began writing professionally in 1999 and has published several legal articles for various websites. She has an extensive real estate and criminal legal background. She also tutored in English for nearly eight years, attended Buffalo State College for paralegal studies and accounting, and minored in English literature, receiving a Bachelor of Arts.