How to Change Divorce Attorneys
By Lisa Magloff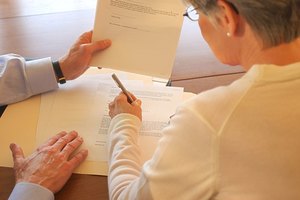 Jupiterimages/Comstock/Getty Images
Changing attorneys during a divorce is not uncommon. This may happen if you choose your first attorney in a hurry at the beginning of the divorce, then realize you do not have a good rapport with that attorney. It can also happen when there is a conflict of interest, or when you feel your attorney is not doing all he can for you. It is your right to change attorneys, but you must make sure that you do not compromise your case while you are changing attorneys.
Retain a new divorce attorney. You need to do this before you end your relationship with your existing attorney in order to make sure you are not without legal representation. Sign a contract with your new attorney. Inform your new attorney of any upcoming hearing dates and filing deadlines.
End your relationship with your existing divorce attorney. You can do this in writing or in person, but even if you are dismissing your attorney in person, you should also write a letter of termination. The letter should clearly state the date you wish to terminate your professional relationship and should give the name and contact details of your new attorney. You should also request in writing that all of your case materials be sent to your new lawyer by a certain date. In some cases, your new attorney may do all this for you.
Ask for copies of all outstanding bills from your current attorney. If you paid an initial retainer, verify your balance and ask for the date when you will receive the balance.
Request that a copy of your client file be sent to your new attorney. You may be charged a fee for this. Make sure your new attorney received this file and also that she has copies of any other documents related to your case that you may have at home. Be aware that your previous attorney only needs to supply documents that have already been filed with the court, documents you supplied or discovery documents. Your new attorney may make this request for you.
Ask your new attorney to file an "Entry of Appearance" document with the court handling your case. This is the official notification to the court that you have changed divorce attorneys and will allow your new lawyer to represent you. If you are using a mediator, she will also need to receive a copy of this document. Your spouse's lawyer will also need to be sent a copy of the document.
Warnings
Keep in mind that it may take your new lawyer some time to familiarize herself with your case, and you will be billed for this catch-up time.
References
Writer Bio
Since graduating with a degree in biology, Lisa Magloff has worked in many countries. Accordingly, she specializes in writing about science and travel and has written for publications as diverse as the "Snowmass Sun" and "Caterer Middle East." With numerous published books and newspaper and magazine articles to her credit, Magloff has an eclectic knowledge of everything from cooking to nuclear reactor maintenance.