How to File for Divorce for Free in Florida
By Tom Streissguth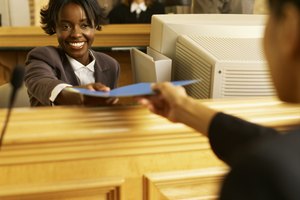 Stockbyte/Stockbyte/Getty Images
The state of Florida requires that divorces begin with a Petition for Dissolution of Marriage. This sets the legal process of divorce in motion; eventually, the courts will hear the case and a judge will sign a final decree, at which point the divorce is complete and legal. Although the process can be expensive, state law provides for filing free of charge for those who qualify.
Fill out and sign a Petition for Dissolution of Marriage. The petition must include your name and address, the name and address of your spouse, the grounds for the divorce, and information on any minor children of the marriage. Along with the petition, you must file a Financial Affidavit; you may also file a Marital Settlement Agreement at this time, although it is not required.
Fill out and file a fee-waiver petition simultaneously with the divorce petition. A fee-waiver petition is a document that specifically requests that the filing fee, which varies by court, be waived by the clerk, and that you be allowed to file the divorce petition free of charge. As grounds, you must assert that you are indigent and unable to pay the statutory fee. The fee-waiver petition can also request of a waiver of the sheriff's fees required for service of the petition on your spouse.
Prepare an Affidavit of Indigency, in which you list your assets -- money, property and other goods -- as well as any income you derive from wages or non-wage sources, such as disability, unemployment compensation or workers' compensation indemnity payments. Each court has a blank form you can use for this purpose; some clerks provide the form online. Sign and date the petition and have it notarized before filing it with the Petition for Dissolution.
Attend a court hearing, if required by the clerk of court. At the hearing, the judge will review your paperwork and ask questions related to the Affidavit of Indigency that you filled out. You may have an attorney present. At the end of the hearing, the judge will either approve or deny the fee-waiver petition; if the petition is denied, you will have to pay the filing fee to the clerk before the clerk's office will process the divorce petition.
Items you will need
Petition for Dissolution of Marriage

Fee Waiver Petition

Financial Affidavit
Tips
A fee-waiver petition can be filed for any court procedure that charges a fee. This includes filing a divorce petition, serving a summons via law enforcement agency, or clerk services. Your local Legal Aid society may assist with low-cost or no-cost legal advice in divorce and other family matters, and the court may also offer mediation services to help you settle the terms of the divorce at no cost.
Warnings
Don't falsify financial or other information on any affidavit or petition that you sign. This is information provided under oath, and wrong information is perjury and subject to criminal charges as well as fine and imprisonment if you are found guilty.
References
Resources
Writer Bio
Founder/president of the innovative reference publisher The Archive LLC, Tom Streissguth has been a self-employed business owner, independent bookseller and freelance author in the school/library market. Holding a bachelor's degree from Yale, Streissguth has published more than 100 works of history, biography, current affairs and geography for young readers.