How to Become a Divorce Mediator
By A.K. Jayne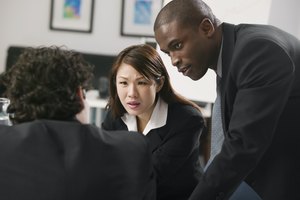 Comstock Images/Comstock/Getty Images
Unlike divorce attorneys, who represent one party in a divorce proceeding, divorce mediators work with the husband and wife to help them negotiate an agreement that is satisfactory to both parties. A divorce mediator helps the couple come to an agreement regarding issues including child custody and division of property before the divorce is filed in court. This means that the divorce can move more quickly through the court system. While there is no uniform licensing requirement for divorce mediators, many have college background or have completed a formal training program, according to StateUniversity.com, a career resources website.
Earn a degree in a field such as social work, law or psychology. Most successful divorce mediators have a professional background in one of these areas, StateUniversity.com notes. If you opt to study one of these fields, you can tailor your curriculum to prepare you for a career in divorce mediation. For example, if you go to law school, you might take family law courses of volunteer for a family law clinic. A graduate student in psychology or social work can specialize in marriage and family counseling.
Enroll in a divorce mediation training program. An example of this training is the program offered by the Center for Mediation & Training in New York City. The six-day basic training program covers topics such as conflict resolution, ethics for mediators, and matrimonial law. Participants in the training program engage in role-playing exercises, panel discussions, and small-group discussions.
Complete a practicum to gain experience in mediating divorce cases. A practicum provides aspiring mediators with hands-on, supervised experience handling cases. Typically, practicums will be open to those who have completed an introductory-level training program. At the Center for Mediation & Training, students work in pairs, and the mediation sessions are watched by faculty, who review a videotape of the session with the student afterward. A practicum can be completed in six to seven months on a part-time basis.
Begin taking mediation clients. Some mediators choose to open their own full-time practice. In a mediation training program, you will receive advice from a working mediator as to how to start your business and set fees. As your practice grows, prior clients may refer new clients to you. Alternatively, StateUniversity.com notes that some divorce mediators are employed by mediation centers or law offices. Others practice law or social work and take divorce mediation cases on a part-time basis.
References
Writer Bio
A.K. Jayne has written and edited print and online content since 2006. In addition, she has legal assistant/paralegal experience in areas including wills and trusts and family law. Her articles have appeared in the "Philadelphia Inquirer," "New Jersey Record" and "Burlington County Times." Jayne completed an Associated Press internship and is an alumna of Syracuse University's Newhouse School of Public Communications.