How to Get a Divorce When One Spouse Won't Agree
By Beverly Bird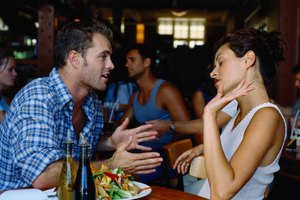 Robert Koene/Photodisc/Getty Images
No one can stop you from getting a divorce if you want one, with the possible exception of the court. If you don't follow proper legal procedure, a judge can deny your divorce, forcing you to start over. Your spouse can't stop you, but she can complicate the process.
Decide what ground you want to use to file for divorce. All states require that you give a reason in your divorce petition for ending your marriage. All states also provide for some version of no-fault divorce. In either case, you have the burden of proof to show the court your ground exists. If you chose a fault ground when your spouse is already resisting the divorce, you'll provide her with an opportunity to contest it by denying the wrongdoing. She generally can't contest a no-fault ground.
Research the rules for service of process in your state. You can call your county court, a legal aid center, your local paralegal association or consult with a lawyer. Make sure you understand exactly what you have to do to ensure that your spouse legally receives a copy of your divorce petition after you file it. If you err, your spouse can say she wasn't properly served and block your divorce proceedings. You could still get a divorce, but you'd have to start the process all over again.
Wait out the period of time your state gives your spouse to answer your divorce petition. If she files a response with the court, you'll probably have to resolve your divorce by trial; she won't agree to a settlement if she doesn't want the divorce.
Call the court again to find out how you can move forward with a default judgment if your spouse ignores your divorce papers and doesn't answer them within the allotted time. In most states, this requires filing a request for default, then appearing at a hearing to testify that you've met your state's filing requirements and to prove your ground. If you chose a no-fault option, your opinion that your marriage is over is usually enough. Otherwise, you might have the added task of convincing the judge that your ground happened, such as by proving adultery or cruelty.
Prepare for trial if your spouse does answer your divorce petition. If you used a no-fault ground, the trial will only address issues of property division, support and custody of your children. Gather all documentation you can to prove the value of your assets and the extent of your debts and write a proposed parenting plan to address custody and time with your children. If you filed on a fault ground, be prepared to substantiate it, just as you would have to have done at a default hearing. In a trial, however, your spouse can raise "defenses" against your ground, such as that you condoned her behavior. If she's successful, the judge won't grant your divorce on that ground, and you'll have to start over, filing a new petition and using a ground she can't disprove.
Tips
If your spouse refuses to move out when you tell her you want a divorce, resist the temptation to move out yourself, at least without speaking with an attorney. Moving out can hurt your chances for custody and might potentially affect property distribution if you own your home.
In some states, your spouse can ask for counseling and a chance for reconciliation when she answers your divorce papers. A judge may or may not grant her this request. If he does, it will slow down your divorce process while you attend counseling. It won't stop you from getting your divorce, however, if you tell the court after counseling that you still believe the marriage isn't savable.
References
Writer Bio
Beverly Bird has been writing professionally since 1983. She is the author of several novels including the bestselling "Comes the Rain" and "With Every Breath." Bird also has extensive experience as a paralegal, primarily in the areas of divorce and family law, bankruptcy and estate law. She covers many legal topics in her articles.