How to Get a Divorce If I Don't Have the Filing Fee
By Anna Assad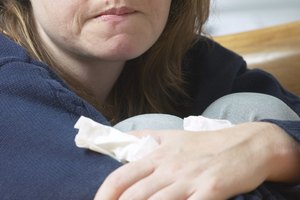 Hemera Technologies/AbleStock.com/Getty Images
Being unable to file your divorce because you can't pay the filing fee is frustrating, but there is help available. Some courts have waivers for persons who can't afford to pay the filing fee; the waiver allows you to file for free. Another option is to apply for free legal assistance from a local aid society. In addition to fee payment, the society typically provides you with free or low cost legal representation in your divorce case.
Court Assistance
Visit the court clerk's office of the court you want to file the divorce in. Ask the court clerk if the court has fee waivers. Ask for the fee waiver papers and instructions.
Check the waiver instructions for the supporting documentation you need. The proof you need varies by court, but you typically need pay stubs, bank statements and documentation of other assets you have, such as stock. Gather the documentation and copies of your current bills.
Prepare the fee waiver request form. Follow all instructions. Check the financial papers you gathered to avoid over or understating income and assets.
Submit the waiver and the supporting documents to the court. The court will typically notify you if you were granted the waiver. Once you receive the waiver, you can file the divorce papers without paying the fee.
Legal Aid Society
Contact your state bar association. Ask for the contact information for the local legal aid assistance society that handles divorce cases.
Contact the society. Each society typically has its own application rules. Ask what the application process is and if filing fees are covered. Request the papers to apply.
Locate your financial papers. The papers you need vary by society; check the application for instructions. In addition to pay stubs and bank statements, you may need proof of your bills, such as mortgage payments, your rent and utility bills.
Complete the application. You'll need the information from your financial documents and your bills, as well as your name, address and phone number. The application will also request information about your divorce case. Complete all items on the form. Attach any documentation requested in the instructions.
Submit the application to the legal aid society. Some societies request you mail the application in, while other societies take applications in person only. Visit the society's office if you must submit the application in person. If the application is approved, you'll receive legal assistance and coverage for the fees.
Warnings
Some courts have you file the petition and waiver together. If the waiver isn't granted, you'll have to pay the fee to proceed with the divorce.
References
Writer Bio
Anna Assad began writing professionally in 1999 and has published several legal articles for various websites. She has an extensive real estate and criminal legal background. She also tutored in English for nearly eight years, attended Buffalo State College for paralegal studies and accounting, and minored in English literature, receiving a Bachelor of Arts.