The Average Cost for Divorce
By Lisa Magloff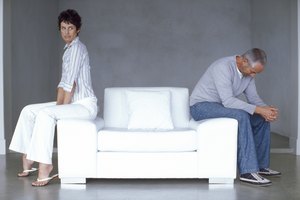 Pixland/Pixland/Getty Images
According to a 2006 article on Forbes.com, divorce proceedings can range from a few hundred to many thousands of dollars, with the average cost of a contested divorce ranging from $15,000 to $30,000. Most of this money is spent on legal fees. The average divorce cost varies considerably depending on the type of divorce, how contentious the divorce is and whether you use options such as mediation or collaborative divorce.
Legal Fees
In a divorce, both spouses will generally have lawyers. Attorney fees vary widely depending on the area, the individual attorney, the number of contested issues and the length of the trial. According to Divorce Court Attorneys, a two day divorce trial can cost as much as $25,000 in legal fees alone. Divorce lawyers generally charge from $75 an hour and up, with partners in large firms charging as much as $450 an hour. Some divorce lawyers will charge a flat rate of a few thousand dollars, or a rate per contested issue. The flat rate does not usually include the cost of a trial. If you have a very low income, you may be able to receive free or low-cost assistance from your local legal aid clinic or through a lawyer working on a pro bono basis.
Uncontested Divorce
In general, an uncontested divorce is a great deal cheaper than a contested divorce. In an uncontested divorce, the couple agrees on all aspects of the divorce, such as support payments, property distribution and child custody issues and do not go to trial. While it's possible to complete an uncontested divorce without a lawyer, it's advisable to have one to address such issues as setting up custody arrangements, managing property settlements and other financial arrangements. Because an uncontested divorce is faster than a contested divorce, legal fees will generally be lower. For some simple uncontested divorces, you may be able to use an online divorce service, which costs an average of $250 to $500.
Mediation and Collaboration
Mediation and collaboration are other options that couples who have some disagreements regarding settlements, but whose divorce is fairly amicable, can use. In some jurisdictions, couples in a contested divorce are required to meet with a mediator before they can receive a trial date. You will still end up paying for the mediator, but mediation can speed up the divorce process and reduce the amount of time the divorce lawyers spend on the case. According to Forbes.com, this can reduce the overall bill to around $5,000. In a collaborative divorce, the spouses hire lawyers, but the lawyers agree to resolve the issues without litigation. This requires lawyers trained in collaborative divorce. Forbes.com notes that as of 2006, collaboration costs average around $3,000 per lawyer.
Additional Costs
In addition to court and legal fees, you must also keep in mind the additional costs of divorce. If you own property jointly, you may have to sell this property during the divorce. There may also be costs for buying or renting new residences for one or both spouses, and moving costs. If you have any children, they may need counseling. There may also be fees for accountants and financial lawyers to manage the sale and division of property. You will also need to pay court filing fees. These fees vary from state to state and generally cost about $150. You can have the filing fees waived if you cannot afford them.
References
Writer Bio
Since graduating with a degree in biology, Lisa Magloff has worked in many countries. Accordingly, she specializes in writing about science and travel and has written for publications as diverse as the "Snowmass Sun" and "Caterer Middle East." With numerous published books and newspaper and magazine articles to her credit, Magloff has an eclectic knowledge of everything from cooking to nuclear reactor maintenance.