How to Change a Name After a Marriage in Michigan
By Lauren Miller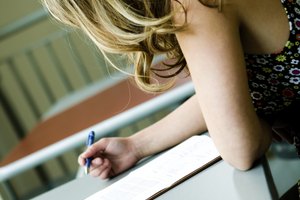 Jupiterimages/Photos.com/Getty Images
In Michigan, residents and non-residents can apply for a marriage license in a county clerk's office if they fulfill the state's statutory requirements. If you want to change your name to your spouse's name or hyphenate your name, you must wait until the county clerk issues a marriage license.
Request a certified copy of your marriage license from the county clerk's office in the jurisdiction where you were married. The court charges a fee for this service.

Read More: What Happens if a Marriage License is Never Turned In?
Take the marriage license to the local branch of the Michigan Department of State to get a replacement driver's license or state ID card with your new name. If you only have a few months left before your license expires, you may renew it when you apply for the replacement. There is a fee to get a new license.
Take your marriage license along with a government-issued photo ID such as your driver's license to the local Social Security Administration office to apply for a replacement Social Security Card. You can download the SSA name-change form online and fill it out before arriving at the SSA office. There is no fee for this service. Your new card should arrive within 10 business days.
Contact your bank, insurance company and other businesses to find out how to get your name changed on your accounts.
If you were previously married, you must provide the county clerk with proof of your divorce in order to apply for a marriage license.
References
Resources
Writer Bio
Lauren Miller has more than 10 years of experience as a writer and editor. Her articles on technology, small business and legal topics have appeared in magazines, newspapers and trade journals. She has a Bachelor of Arts in philosophy and is an avid gardener and sports fan.