How to Apply for Default Divorce in Pennsylvania
By Editorial Team
Updated July 21, 2017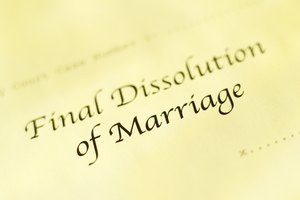 Stockbyte/Stockbyte/Getty Images
In Pennsylvania, a default divorce can be obtained when one spouse does not sign the divorce forms and ignores all requests for documentation. A spouse can also seek a default divorce when the pther fails to make court appearances. The lack of compliance is a sign to the court that there are no requests or demands to be heard from the other spouse. If you are able to obtain a default divorce, it is likely the entire process will work in your favor.
Gather your financial documents. Whether you plan to hire an attorney or complete your divorce on your own, you will have to provide the court with information regarding your finances and any property that you own. Put all documents in a binder or large envelope so they are easily accessible. If you and your spouse have children together, be prepared to provide their names, birth dates and social security numbers. You should also be prepared to provide tax returns for the last two years and pay stubs from several previous months.
Consult with a divorce attorney. You are not obligated to hire an attorney in order to complete a divorce in Pennsylvania, but obtaining a divorce can be a complicated process. If you have accumulated assets with your spouse or have children together, an attorney can help you receive a settlement that is fair and equitable.
File a divorce complaint at the Pennsylvania family courts. When you file the complaint, you will have to include a copy of your marriage certificate and pay a filing fee. If you are unable to pay the fee, you may be able to request a fee waiver if you meet the income guidelines. Within 30 days of filing your complaint with the court your spouse must be served. You have the option of having your spouse served by an individual older than 18 years old, by certified mail or a process service.
Wait for a response from your spouse. He will have 20 days from that date of being served to file an objection to allegations in your complaint. If your spouse fails to respond, he will be recognized by the court as being in default.
Complete an Application for Clerk's Default. You will also have to file a copy of the original divorce complaint along with proof that your spouse was served. File the documents at the clerk's office.
Prepare a Judgment and Decree of Divorce. The order outlines the dissolution of the marriage. Mail the Decree along with any attachments to your spouse.
Make an appointment for a default hearing. At the hearing you will have to testify the information contained in your complaint is true and correct. The judge may ask you questions about the financial information you provided. If there any claims for child support, these will be reviewed as well. Unless any other documentation that needs to be provided, the judge will grant the divorce by default.
Items you will need
Default judgment

Divorce complaint

Application for Clerk's Default

Judgment and Decree of Divorce
References
Resources
Writer Bio
This article was written by the CareerTrend team, copy edited and fact checked through a multi-point auditing system, in efforts to ensure our readers only receive the best information. To submit your questions or ideas, or to simply learn more about CareerTrend, contact us [here](http://careertrend.com/about-us).