Can You Get Married in a State That You Don't Live In?
By Victoria Lee Blackstone
Updated January 29, 2020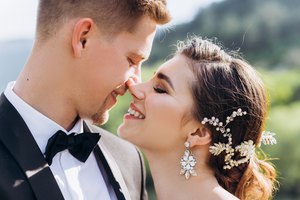 EkaterinaPichukova/iStock/GettyImages
Getting married requires a couple to make dozens of decisions. The couple must choose flowers, the wedding party, the cake, music, guests – the list goes on and on. However, one of the choices – venue – may not be in the couple's hometown or even their home state.
But even if the wedding ceremony takes place in a state other than the state in which one or both of the future spouses currently live (including Washington, D.C.), their marriage is recognized in every state as long as the couple meets all the legal requirements. When getting married in a different state, it's the state where the couple ties the knot that determines these legalities… not the state of their residence.
Getting Married in Another State
There are numerous reasons why couples may get married in a state in which one (or both of them) don't live. If someone is marrying someone from another state, the marriage may take place in the home state of one of the future spouses, or the couple may also choose to get married in a state that is not the home state of either person. Sometimes, couples choose to get married in a state where the family of one (or both) lives.
A non-resident state may be more attractive simply because of its destination-wedding appeal, for example, the sunny shores of a coastal state or the snowy slopes of a mountainous state.
Different State Laws for Marriage
Getting married in a state different from the one that either party lives in is not solely prohibitive to the legality of a marriage. However, the couple must do their homework to make sure they meet all the legal requirements in the state where their nuptials will take place.
These requirements include the steps for getting a marriage license, observing a waiting period, choosing an officiant, and making sure each person is of legal age to be married in a certain state. And because each county within a state may have different requirements, such as the fee required for a marriage license, couples need to check county laws as well as state laws to ensure their compliance.
Legal Age to Get Married
The minimum age for marriage varies from state to state, and this age changes with the fluidity of ever-evolving legislation. In most states, the age of individual consent is 18, but persons younger than 18 may marry with a parent's consent or by emancipation.
For example, 16 was the minimum age to marry in Georgia until Act 187 of HB 22 amended the Georgia Code on July 1, 2019. As of the date of publication, the minimum age to marry in Georgia is now 17, if the 17-year-old has documentation of emancipation as a minor, completes premarital education and meets other requirements.
In Washington, D.C., a person as young as 16 years old may get married with a parent's or guardian's consent. And in New York, the minimum age to marry legally is 17 with both parents' consent unless one parent is deceased, one parent has sole custody, one parent has been missing for a year, or one parent has been ruled incompetent. Because of the intricacies of the requirements for the legal age to marry in each state, couples may want to start with the clerk of court's office in the county where they wish to marry to learn the specifics for their legal marriage.
Obtaining a Marriage License
The license itself does not convey marriage status to the applicants; it's simply the first legal step toward legitimizing the marriage. Each county's application for marriage is different, according to the county and state requirements, including the option of completing the application online or in person.
Couples typically apply for marriage licenses in the county where they intend to be married, with some exceptions. One exception is Georgia, where a couple must apply for their marriage license in the county where they will be married only if both parties are non-residents of Georgia. As long as one applicant is a Georgia resident, the couple may apply for their license in any county, and the license is valid in all Georgia counties.
In some states, such as New York, applicants must apply in person for their marriage license; representatives are not allowed, even if a representative has a Power of Attorney for the applicant(s) or produces notarized affidavits that are signed by the applicant(s). In other states, including the District of Columbia, a third-party representative may apply for a marriage license on behalf of a couple if the representative produces identification for the couple and pays the application fee.
Marriage License Fees
Couples must pay a fee for their marriage license, depending on the county's fee structure. Marriage license options also vary among counties and carry different fees, depending on the option a couple chooses.
For example, couples in Sacramento County, California, may choose one of four licensing options: public marriage license ($84), public marriage license issued after regular hours ($90), confidential marriage license ($95), and confidential marriage license issued after regular hours ($100).
Other counties, such as Fulton County, Georgia, waive fees if couples complete a qualifying premarital counseling program. Fulton County waives its entire $40 marriage license application fee with a certificate of completion from a qualifying premarital counseling program in accordance with Georgia Code Section 19-3-30.1. Couples must complete the counseling program within 12 months of their marriage license application, and they must attend the counseling together. Although there may not be a cheapest state to get a marriage license, counties that waive all (or part) of their licensing fees can help a couple save money.
Marriage License Waiting Period
After applying for a marriage license, couples may have a waiting period after the county issues the license to them before they can get married. In most states, couples can get married as soon as they receive their marriage license. But other states require a waiting period.
For example, couples who are married in New York must wait 24 hours from the time their license is issued until their ceremony, although certain judges may waive this waiting period. Wisconsin has a longer waiting period; couples must wait for seven days from the time they complete their application until they can get married.
Marriage License Expiration Dates
Some marriage licenses have expiration dates. From the time a couple is issued a license, their window to finalize the marriage with a ceremony is only valid during a certain window of time.
In the Wisconsin example, after couples receive their marriage license, this window of time is 30 days. Even though couples have a seven-day waiting period from the date they submit their application to the date they receive their license, they have 30 days to get married from the issuance date of their license. Nevada has a much longer window during which marriage licenses are valid. Licenses do not expire until one year from the date of issue.
Other jurisdictions, such as South Carolina and the District of Columbia, have no expiration period. Once a marriage license is issued, it's good "until."
Marriage License vs. Marriage Certificate
Although a marriage license is not transferable from state to state, a legal marriage in any state is legal across the entire United States. The license simply allows a couple to get married, but the certificate is proof of a legal marriage.

Read More: How Long Does It Take to Get a Marriage Certificate?
Types of Marriage Certificates
Couples may be able to choose among different types of marriage certificates. Sacramento County, CA, issues two types of certified marriage certificates – authorized and informational. An authorized marriage certificate establishes the identity of one of the parties of the marriage who is named on the certificate. An informational marriage certificate cannot be used as identification; it simply contains the information that validates a marriage.
Obtaining a Marriage Certificate
Some counties, such as those in New York (outside of New York City), automatically send couples a Certificate of Marriage Registration after the wedding officiant sends the completed marriage license to the clerk in the issuing county for filing. There is no additional fee for this certificate, because its cost is included in the $40 fee for a marriage license. In other areas, such as Fulton County, GA, couples must request a marriage certificate and pay a $10 fee in addition to other fees such as the marriage license application fee and recording fee.
Marriage Ceremony Venues
The choice of wedding venue is a personal decision that depends completely on the couple. As long as a qualified officiant presides over a marriage ceremony, the wedding location is not mandated by state law. Each venue, however, has its own guidelines for the type of ceremony allowed. Some couples prefer the simplicity of being married at a private residence. Others choose the courthouse, while many couples choose a church, synagogue or other place of worship to solemnize their vows.
Marriage Ceremony Officiants
When getting married in a different state, couples must make sure that their choice of an officiant is a person who can legally perform weddings in that state. To find a list of authorized officiants, couples can search online for a state's official website to research the guidelines or call the county clerk's office. Otherwise, a couple's marriage may be symbolic but not legal.
Requirements for authorized officiants vary from state to state. For example, New York has a long list of eligible officiants, including certain members of the clergy, current and former governors, current and former mayors, "marriage officers" who are appointed by certain governments, and certain justices and judges. The District of Columbia requires officiants not only be authorized by the court but also registered by the Marriage Bureau.
Some jurisdictions, such as the District of Columbia, allow one of the parties to the marriage to perform the ceremony. For self-officiating ceremonies to be legal, both marriage parties must appear in person when getting their marriage license.
Marriage by Proxy
A proxy marriage is a ceremony for which one of the actual parties is not physically present, and a third party stands in for the absent party. A double-proxy marriage is a ceremony for which both of the parties to the marriage are absent. Two examples of why an actual party to a marriage may be absent are military members who are deployed and prisoners. Only a handful of states allow proxy marriages.
California does not allow marriage by proxy except for certain members of the military who are stationed overseas, serving in a war or conflict, and cannot appear for marriage licensure or the wedding ceremony. For this one proxy-wedding exception, eligible military members may be represented by the appearance of an attorney-in-fact who is empowered through a Power of Attorney (POA) to stand in for an absent military member. Although two prisoners cannot marry each other, inmates in Texas may marry a non-incarcerated person by proxy marriage.
References
Writer Bio
Victoria Lee Blackstone was formerly with Freddie Mac's mortgage acquisition department, where she funded multi-million-dollar loan pools for primary lending institutions, worked on a mortgage fraud task force and wrote the convertible ARM section of the company's policies and procedures manual. Currently, Blackstone is a professional writer with expertise in the fields of mortgage, finance, budgeting, tax and law. She is the author of more than 2,000 published works for newspapers, magazines, online publications and individual clients.