Adoption Home Inspection Checklist
By Editorial Team
Updated September 11, 2018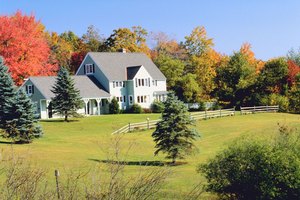 Jupiterimages/Photos.com/Getty Images
The decision to adopt a child -- whether through foster care or an adoption agency -- is one that you should make after careful consideration. Adoption is a glorious process that provides a loving home to a child in need and can enrich your life beyond your imagination. One process of every adoption in the United States is a home inspection. This inspection checks the condition of your home and ensures proper safety precautions are in place. While each agency has a specific list of items they want to inspect, there are some basic things that every agency looks for in a home inspection.
Cleanliness
While your home does not need to be "white-glove" clean, it does need to be in a sanitary condition. Bathrooms should be clean and free of urine or feces with a working shower or bathtub if applicable. Floors should be vacuumed and rooms should be free of toys, clothes or other debris littering the floor or other surfaces. Kitchens should be clean and floors mopped. Prepare your home as you would do if you had family or friends coming for a visit.
Fire Safety
Your home should have working smoke detectors in main rooms and hallways. In addition, you should have a fire extinguisher near the cooking area and know how to use it. Having a fire escape plan is also crucial. A working carbon monoxide detector is a requirement for most homes with gas appliances. If you have a fireplace, a screen or cover is necessary. In addition, consider installing non-locking doors on all bedrooms to prevent a child from being locked in a room in the event of an emergency and installing a knob on exits doors that can open by turning it from the inside, regardless of if it is locked.
General Safety
The home inspector will look for the general safety measures you take in your home. Gates on stairs, locked cabinets for medicines, a first-aid kit, locking windows and sturdy screens for windows are all considerations. Additionally, kitchen trash should have a cover and firearms need a locking safe for the firearm and a separate locking safe for ammunition. Emergency numbers, including poison control should be located in an area accessible to everyone and near the phone.
Pool and Hot Tub Safety
If your home has a pool or hot tub, you might need to make modifications to the area. Pools should have a fence with a locking gate and the doors leading to the pool need proper locking mechanisms to prevent a child from escaping unnoticed. Hot tubs need a locking cover that is kept in place at all times.
Preparing
Ask your adoption agency or foster care department for a general list of the items that are on the checklist. If you have any concerns about items in your home, ask the social worker before the visit to get the right answer. Many home inspections also include an interview with your family so if possible; have family members available.
References
Writer Bio
This article was written by the CareerTrend team, copy edited and fact checked through a multi-point auditing system, in efforts to ensure our readers only receive the best information. To submit your questions or ideas, or to simply learn more about CareerTrend, contact us [here](http://careertrend.com/about-us).